Business Process Automation Consulting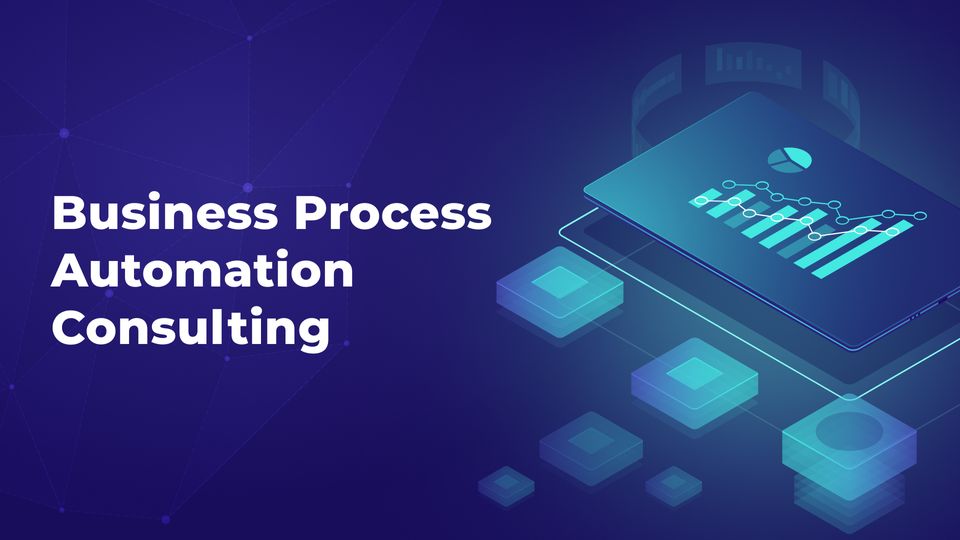 As your business is growing, you can find yourself bogged down by repetitive and time-consuming tasks you have to do manually. Data entry, invoice processing, customer support tasks – these processes are not only frustrating and time-consuming, but might also lead to expensive mistakes that can hurt your business's profitability.

Fortunately, Flyaps has the solution. We offer advanced intelligent automation technologies, including robotic process automation (RPA) and artificial intelligence (AI), to streamline your processes and replace repetitive manual tasks with smart automation. Let's look at how this typically works.
Our approach to business process automation consulting
When it comes to the consulting process, we will work collaboratively with your team to find the perfect solution for your organization precisely. Here's how it's done.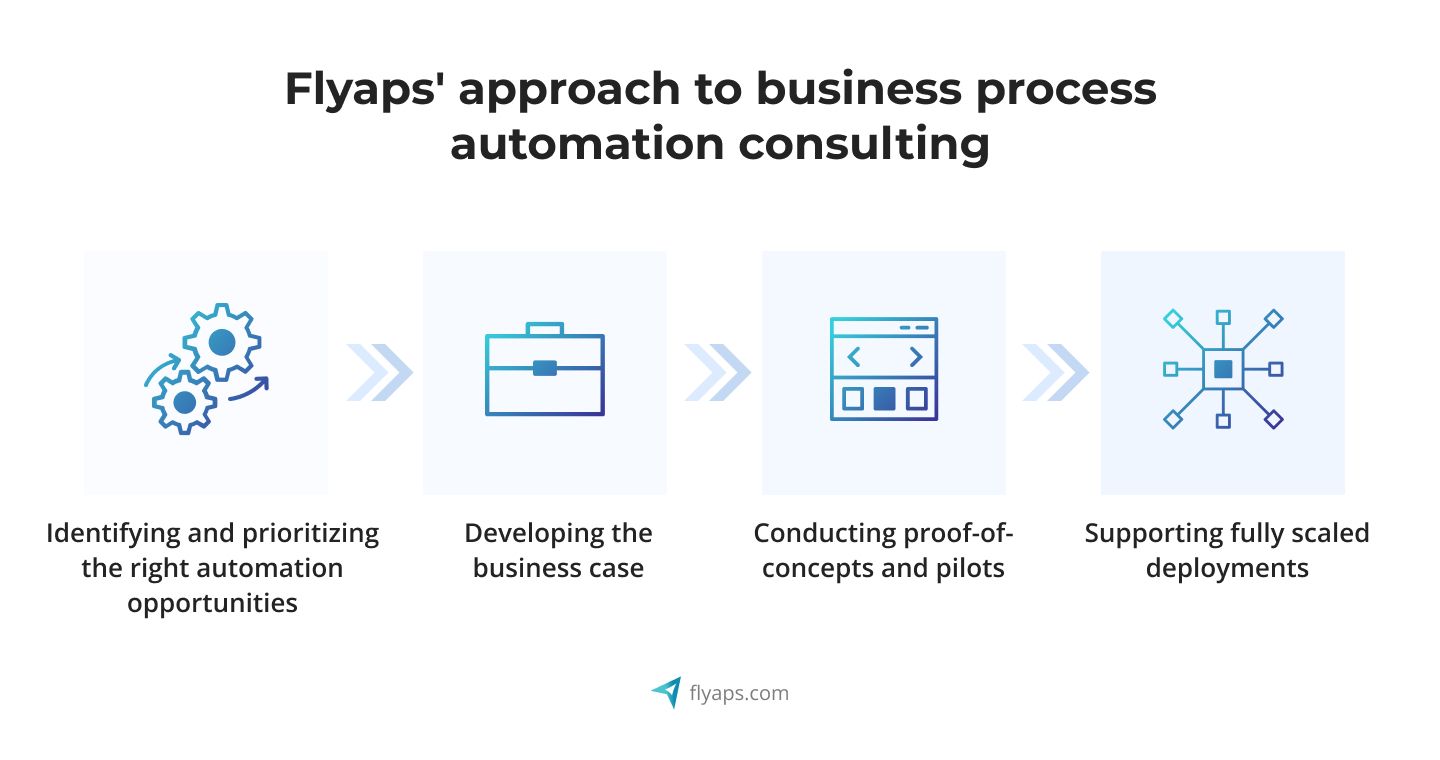 Identifying and prioritizing the right automation opportunities
Our team of business process automation consultants can assist you with assessing your business processes. It means identifying work activities that are most mundane, time-consuming, and prone to error. From there, we can prioritize which processes to automate first based on factors like potential cost savings, impact on productivity, and ease of automation.

Here's an example for better understanding. Let's say you own a small e-commerce business that processes a large volume of orders daily. Your company doesn't have any automation tools in place, so errors and delays are your every-day problems. It leads to refunds, returns, and dissatisfied customers.

That's why you reach out to Flyaps for assistance in automating some processes to solve the problem. Our team assesses your business processes and identifies the most tedious and time-draining tasks. In this case, the manual order processing stands out as a high-priority candidate for automation.

Our team then analyzes the manual order processing in more detail. Suppose, we discovered that automating this process could lead to significant cost savings, reduce processing time, and improve accuracy. As a result, our team would recommend prioritizing this process as the first to be automated.
Developing the business case
To make sure automation is worth considering, you might need a strong and convincing business case that clearly shows why it's necessary and what it will deliver in the end. We work with your project sponsor/manager to develop the business case together.

As a business process automation consulting company, at Flyaps we have more than 10 years of experience with automation for various businesses. We can use that practical knowledge to define the project's scope, outline the benefits and return on investment (ROI), and identify potential risks and challenges.
Conducting proof-of-concepts and pilots
At this stage, Flyaps's automation experts conduct a proof-of-concept in a controlled environment to test the automation solution. We gather feedback from your company's employees and make necessary adjustments to the solution when needed. Once the proof-of-concept is successful, our consulting team conducts a pilot of the solution on a smaller scale to ensure that it works smoothly in your company's environment.

During the pilot, your company's employees can see the benefits of the automation solution firsthand. They have a clear demonstration of how the solution improves their work processes, which helps build trust in the automation initiative. The consulting team gathers feedback from end users and makes any necessary fixes before moving on to a fully scaled deployment.

As a result, thanks to the successful proof-of-concept and pilot, you can deploy the automation solution with confidence.
Supporting fully scaled deployments
At a fully scaled deployment stage, we usually continue collaboration with clients to ensure the solution keeps delivering results over the long term.

To support the fully scaled deployment, the Flyaps team provides solution's ongoing monitoring and maintenance. We identify and resolve any issues that may arise to ensure your solution is functioning smoothly and effectively. The BPA consulting team also provides training and support to end-users, ensuring they have the skills and knowledge to use the solution effectively.
What automation solutions do we use?
Different business process automation goals require different technologies, depending on the complexity of the task at hand and the project's unique requirements. Therefore, we consistently push the boundaries by leveraging the synergies between cutting-edge technologies such as Robotic Process Automation (RPA), artificial intelligence (AI), and low-code application platforms (LCAPs) to offer holistic and all-encompassing automation solutions.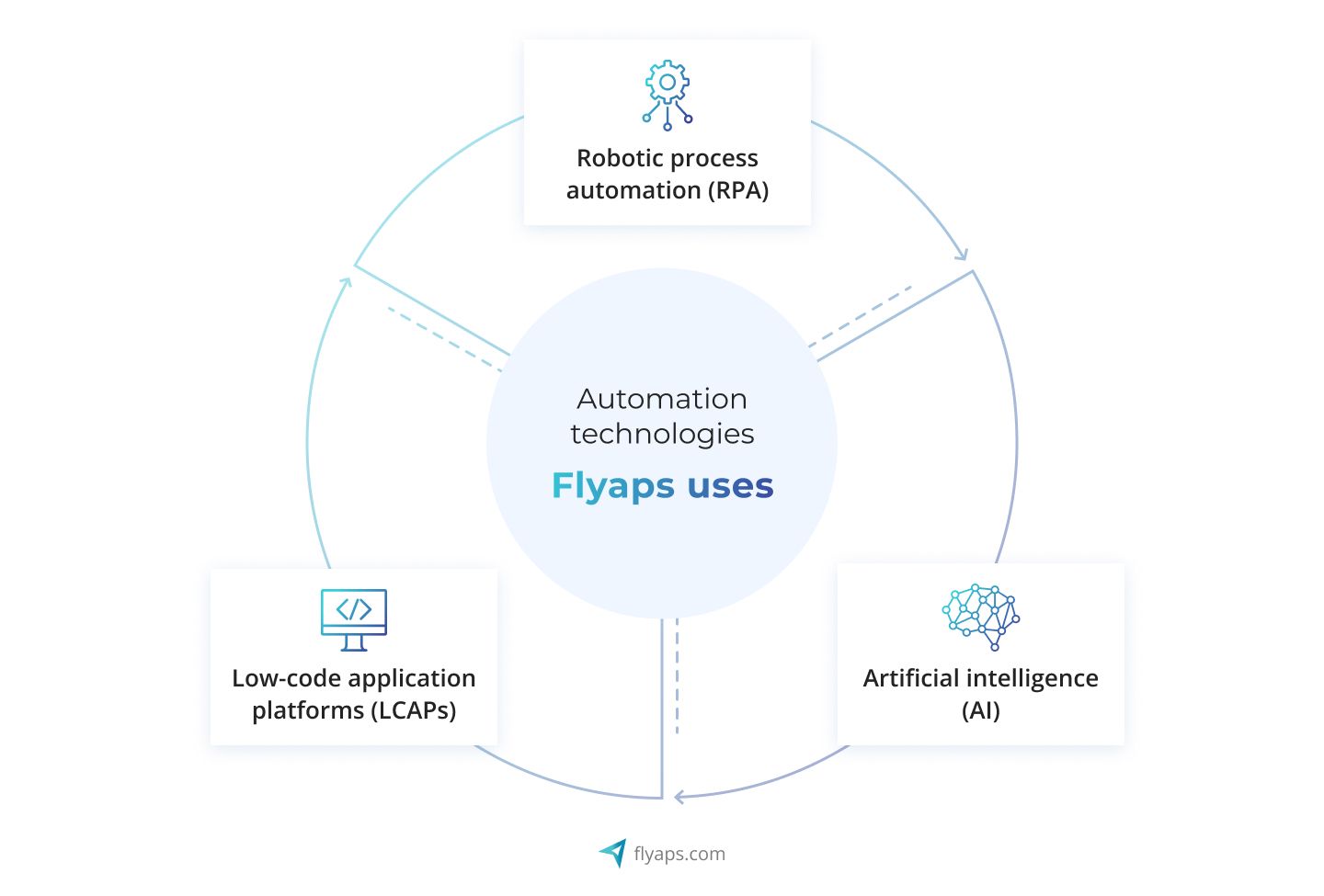 Robotic process automation (RPA)
Robotic process automation uses bots to mimic human actions, such as mouse clicks and keystrokes, and automate these tasks quickly and accurately. RPA is an excellent choice for streamlining simple and repetitive tasks like data entry, invoice processing, or inventory management. When it comes to data processing, it works with structured data and is great for calculation.

For example, you can use RPA to automatically sort and file customer support emails. The bot could quickly identify the type of email and send it to the right department, freeing up employees to focus on more complex tasks that require creative thinking.
Artificial intelligence (AI)
AI is suitable for automating more complex and cognitive tasks that involve unstructured data, such as natural language processing (NLP), image recognition, and decision-making. For example, when an online store has a chatbot in place, it can be powered with NLP to better understand human language and answer customers' requests more accurately. AI can also be applied to detect fraud and make predictions about future business trends.
Low-code application platforms (LCAPs)
Low-code platforms are the latest addition to the automation landscape that is gaining popularity due to their ease of use and flexibility. They allow developers to create and deploy custom applications faster, without writing code from scratch. Low-code platforms can be used for a wide range of automation goals, from streamlining simple processes to creating complex workflows that involve multiple systems and applications.
Read also: Low-Code Business Process Automation: A Look at the Possibilities and Limitations
Our clients' success stories
Over the past 10 years, we've helped many companies across different industries achieve success with our business process automation services. Here are a few business process automation examples to give you an idea.
Using RPA and creating custom CRM/ERP system to automate back-office tasks for telecom enterprise
NetSpark IP & Telecom is a US-based telecommunications consulting company. They offer services from AT&T, the world's leading telecom provider. As the company started to grow, they realized they were running all their processes manually and lacked a centralized system for project workflows and managing client relationships. Moreover, calculating the best tariff plans for each of their clients was so complex and time-consuming, that for one project they had to involve up to 10 people at a time. Quite a huge waste of resources!
Luckily, Flyaps has significant experience in the telecom industry, which made us a perfect fit for automating NetSpark's processes. After working closely with the leaders of different departments, we analyzed the company's business needs and created a custom CRM/ERP system with a calculation tool using RPA, Python (Django), React, and Material UI. The solution we created allowed NetSpark to automate the process of analyzing client data and suggest optimal tariff plans, with various user roles and access rights for NetSpark employees, AT&T representatives, and customers.

The custom CRM/ERP system was launched in just three months, so NetSpark was able to reduce manual work and increase revenue in a record time.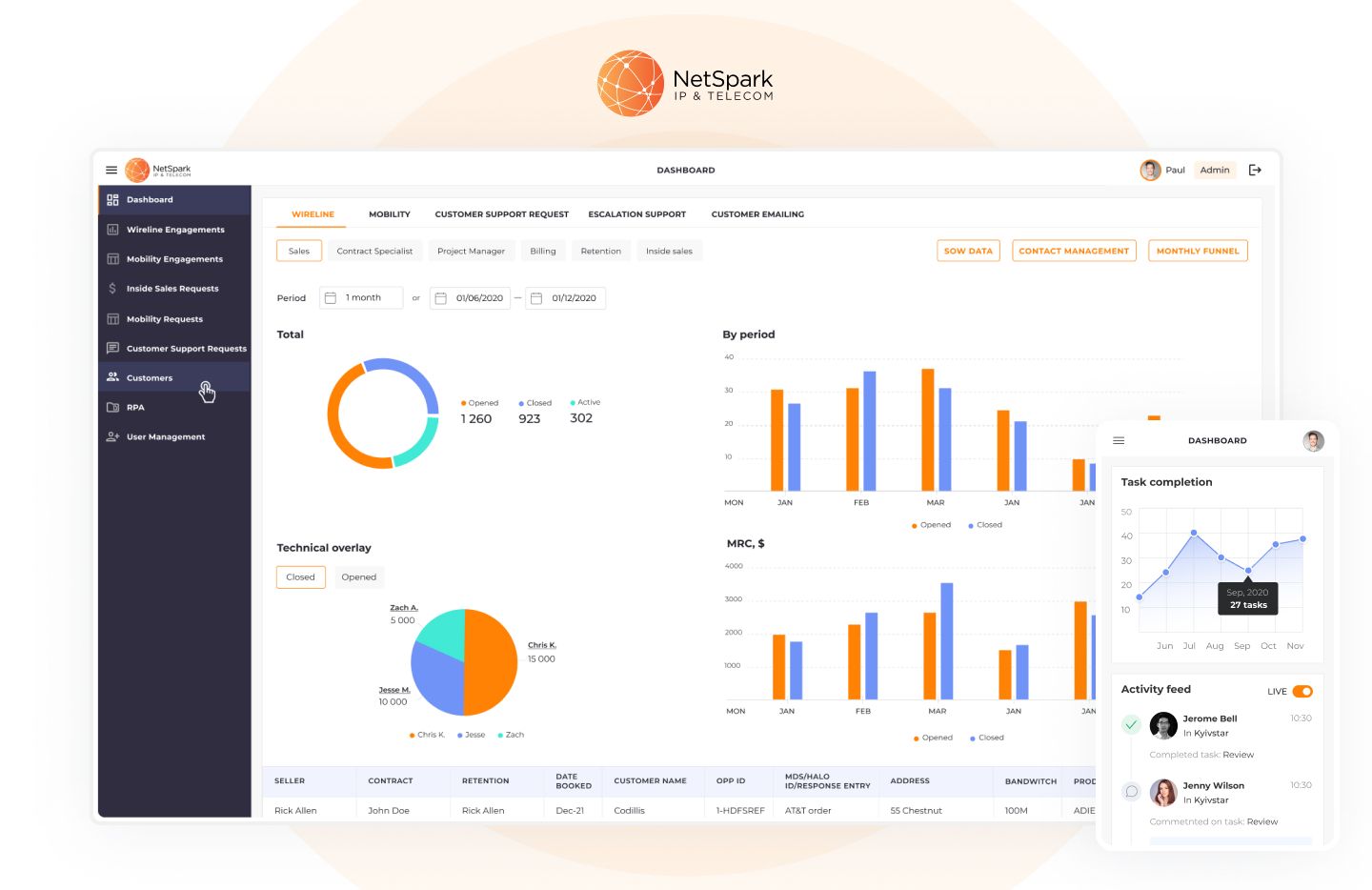 AI-based Chrome extension to speed up recruitment process
GlossaryTech is a startup that provides HR technology solutions for automating the resume screening process in the ICT industry. The company knows firsthand how hard it is for recruiters to keep up with tech trends and identify the right tech specialists that fit job requirements, especially in such a fast-changing field like information technology. That's why they teamed up with Flyaps to create a solution that automatically extracts essential information from CVs and provides explanations of tech terminology.

To bring the idea to life, we developed two AI-powered tools: a CV Scanner and a Chrome Plugin. CV Scanner is an app where users can upload CV-files and the system automatically categorizes candidates' skills and gives definitions of all the technologies mentioned. GlossaryTech Chrome Plugin is an even more advanced solution, capable of scanning web pages like LinkedIn in just seconds.

To develop those innovative solutions, Flyaps' team utilized the NLTK library, an open-source platform that allowed us to create an NLP algorithm capable of analyzing unstructured text data. The algorithm we created uses a one-of-a-kind tech glossary to understand the meaning of different tech words in CVs and the context in which they've been used. The algorithm quickly identifies the necessary information and categorizes it correctly, decreasing the time required for resume screening.

But we didn't end there. After testing the algorithm, our team figured out a way to make data extraction even more accurate. We offered our client to build a tokenizer designed specifically for the ICT domain. The tokenizer ensures the text analysis of much higher quality, compared to existing market solutions.

As a result, the Chrome Plugin is now featured by Google and widely used by top recruiters from tech giants like Tesla, Microsoft, and Amazon to streamline their hiring processes.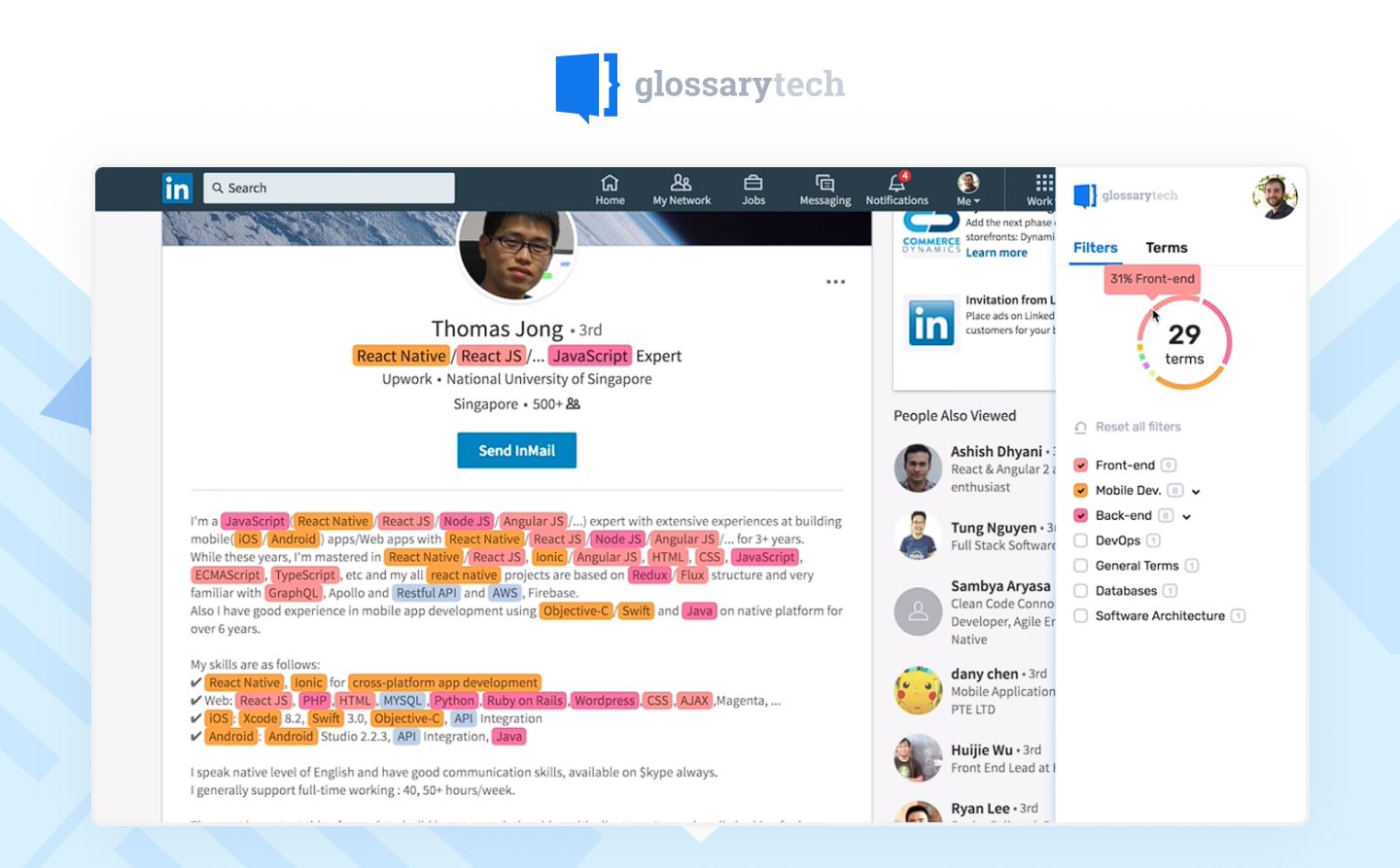 AI-based low-code resume-parsing app with built-in IT glossary
Relocate.me is a platform that connects IT, job seekers, with recruiters from all over the world. To get hired, candidates needed to make their resumes look great, but many of them lacked experience in resume-writing. Therefore, they constantly failed at the CV-screening stage and received rejections from recruiters. To solve this problem, the team at Relocate.me tried providing written recommendations to the  applicants , which worked for a while.

But as the platform grew in popularity, it became too hard to analyze and fix all of the resumes manually. So, the founder came up with the concept of CV Compiler, a tool that can evaluate resumes in any format and offer personalized tips for CV enhancement that can catch the eye of top recruiters. The idea showed potential not only in addressing the Relocate.me challenge but also in benefiting similar organizations. To bring the concept to life, the team turned to Flyaps, and we successfully developed and implemented the idea.

To ensure high-quality product, we built a cloud-native distributed system where each module works independently to optimize integration and performance. We faced a crucial challenge when dealing with PDF files that can contain images, tables, and incorrectly encoded text. To solve this, we used existing natural language processing libraries and machine learning algorithms, but they weren't 100% efficient for our use case.

That's why our team developed our own Machine Learning model by analyzing one million resumes. It reduced resume parsing time to less than a second, provided more accurate results than the libraries we used initially, while also providing opportunities for additional enhancements.

This led to the idea to transform CV Compiler into an API-first product, which brought forth a new business model and enhanced the flexibility and customization options for CV Compiler's customers. The low-code platform allows recruitment companies and platforms like Indeed to customize the solution to fit their needs.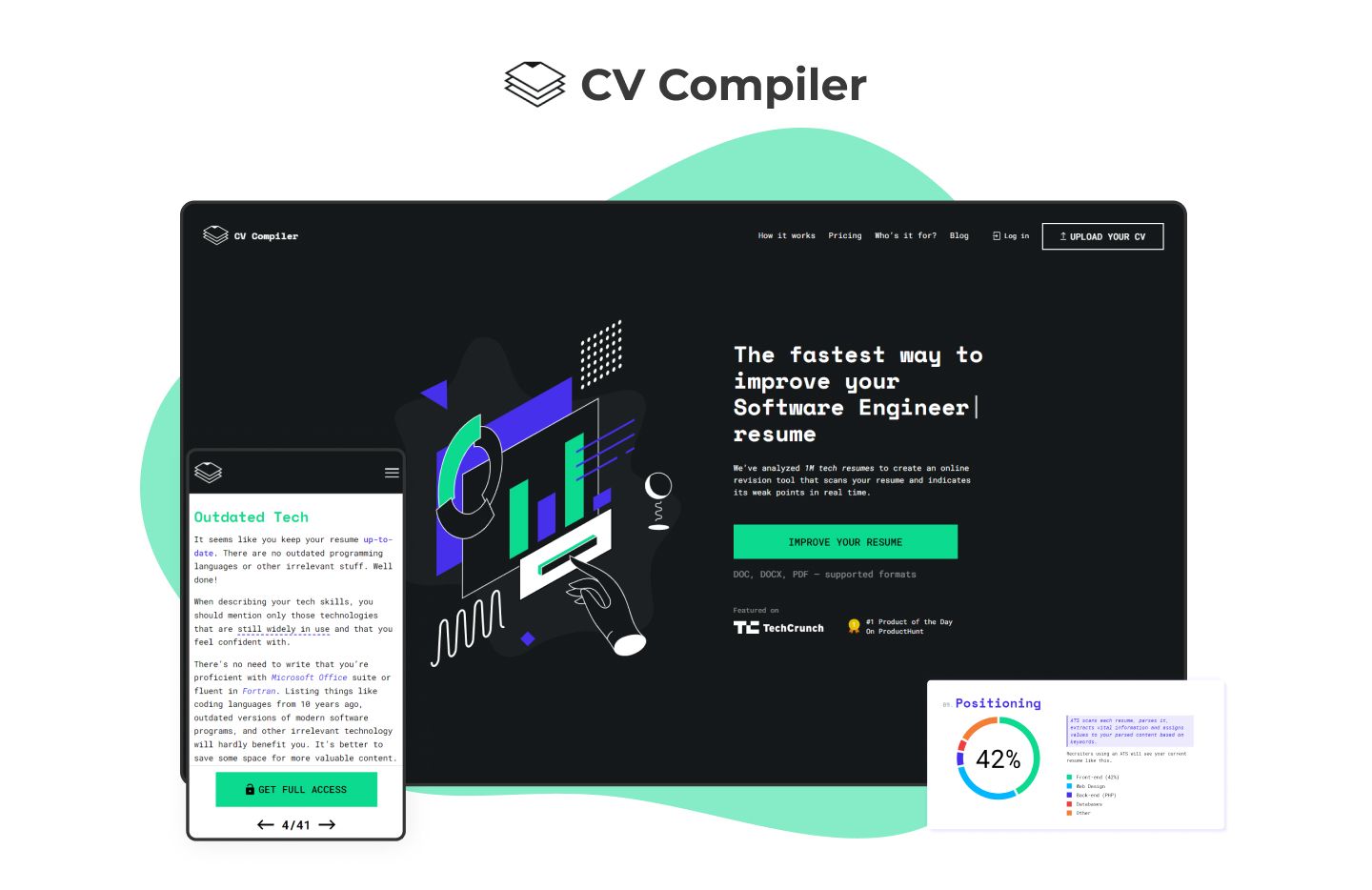 Helping build a low-code ETL platform with more than 300 connectors
Airbyte is a top open-source low-code platform for automating data transfer. Businesses all over the world use it to move data from different applications, APIs, and databases to warehouses and data lakes, where it can be structured and analyzed. This saves a lot of time because normally, data engineers have to do it manually, which takes weeks or even months. With Airbyte, it only takes about 30 minutes!

When we started our cooperation with Airbyte's team, they were still a small startup. We were a great match for them because we specialize in Python, which is the programming language that most of Airbyte's users prefer.
One of the goals for our client was to create the largest catalog of ELT connectors to data warehouses and databases. To encourage engineers to add new connectors, we needed to take care of the intuitiveness of the interface and the simplicity of the process. After creating a clear and simple interface, we were monitoring how people were using it to ensure they could add new connectors quickly and easily.

Since Airbyte is an open-source platform, it was important to make sure that community-built connectors worked correctly. That's why we added quality control measures like a certification system to check if connectors met Airbyte's requirements or needed some improvements. We also gave each connector a reliability grade before adding it to the Airbyte catalog.

Thanks to our cooperation, Airbyte's community has grown to over 10,000 members in just two years. The platform now has over 300 pre-built connectors, which is more than any other tool in the industry offers.
Benefits you can get from Flyaps's BPA consulting services

Customized automation strategy: We've worked for more than a decade in fields such as telecom, where processes are often very complex and each project requires a personalized approach. With our extensive knowledge, our team can assist you in streamlining your company's business processes by developing a customized automation strategy with ongoing support to ensure successful implementation.

Cutting-edge tech solutions: Flyaps is not just a team of software developers – our experts have hands-on expertise in data processing, machine learning, and data visualization. If you're looking for a team that knows how to handle data engineering, has a can-do attitude, and is all about making unparalleled BPA solutions – you've come to the right place.

Cost-effective implementation: We carefully select tools, including low-code platforms, to provide cost-effective development,  not at the expense of quality. Years of experience in developing custom solutions allows us to finely tune our internal processes so that everything runs smoothly, meeting both time and cost constraints.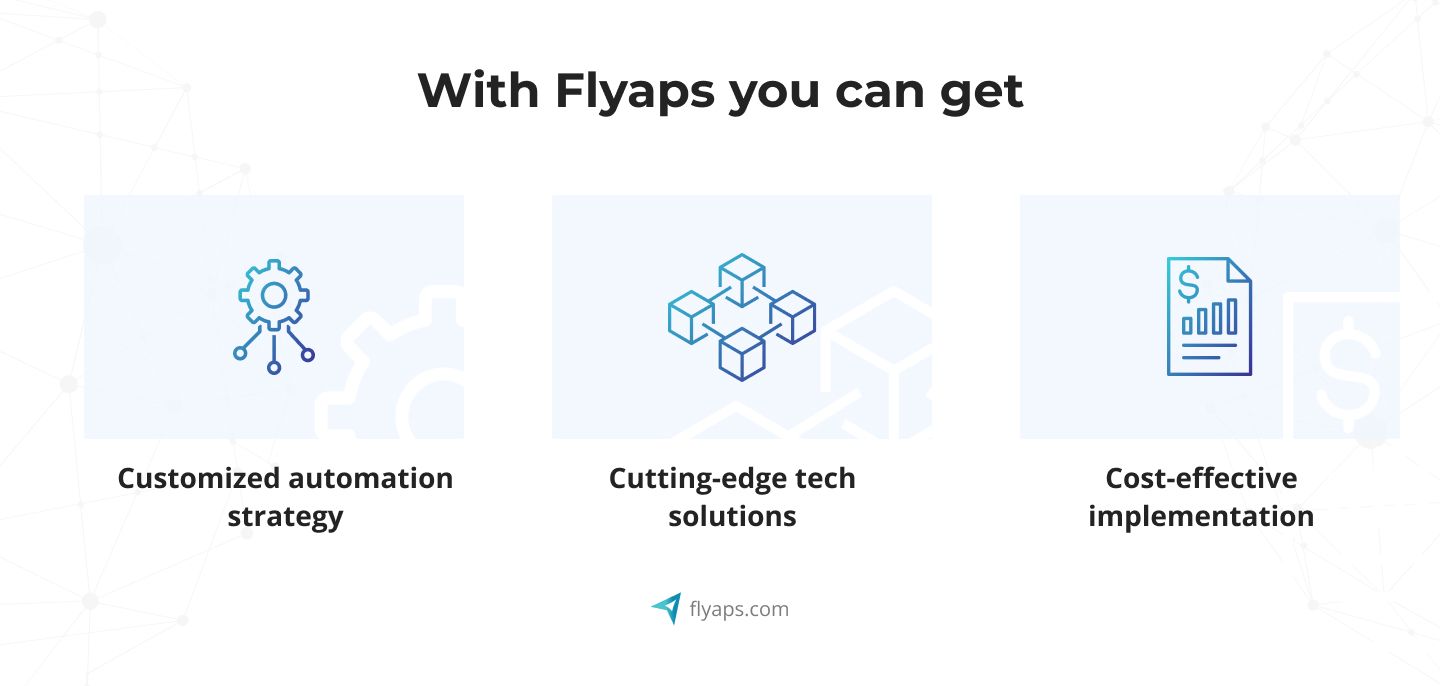 Still have doubts? Drop us a line to discuss how our business process automation consulting services can help you streamline your operations and boost your bottom line.