Business Process Automation Examples and Real-World Success Stories to Help You Build a Winning Business Case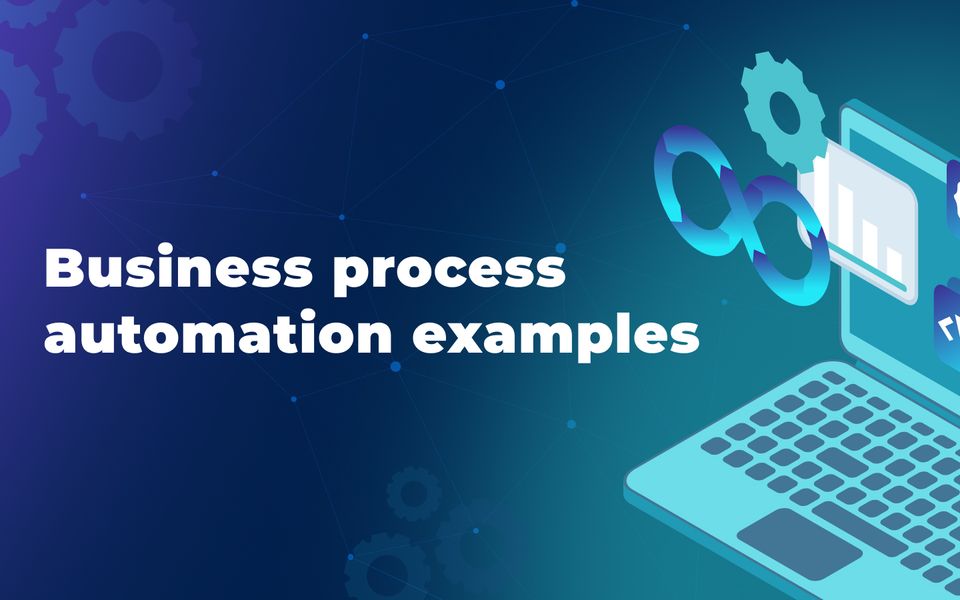 If you're thinking about automating your business processes, it can be tough to convince the higher-ups that it's worth the investment. But don't worry, there are plenty of companies out there that have done it and reaped the benefits.
In this article, we will delve into some of the most successful business process automation examples and offer tips to help you develop a compelling business case for automation in your organization.
Let's start the ball rolling by talking about how BPA can be implemented in different domains.
Examples of business process automation across industries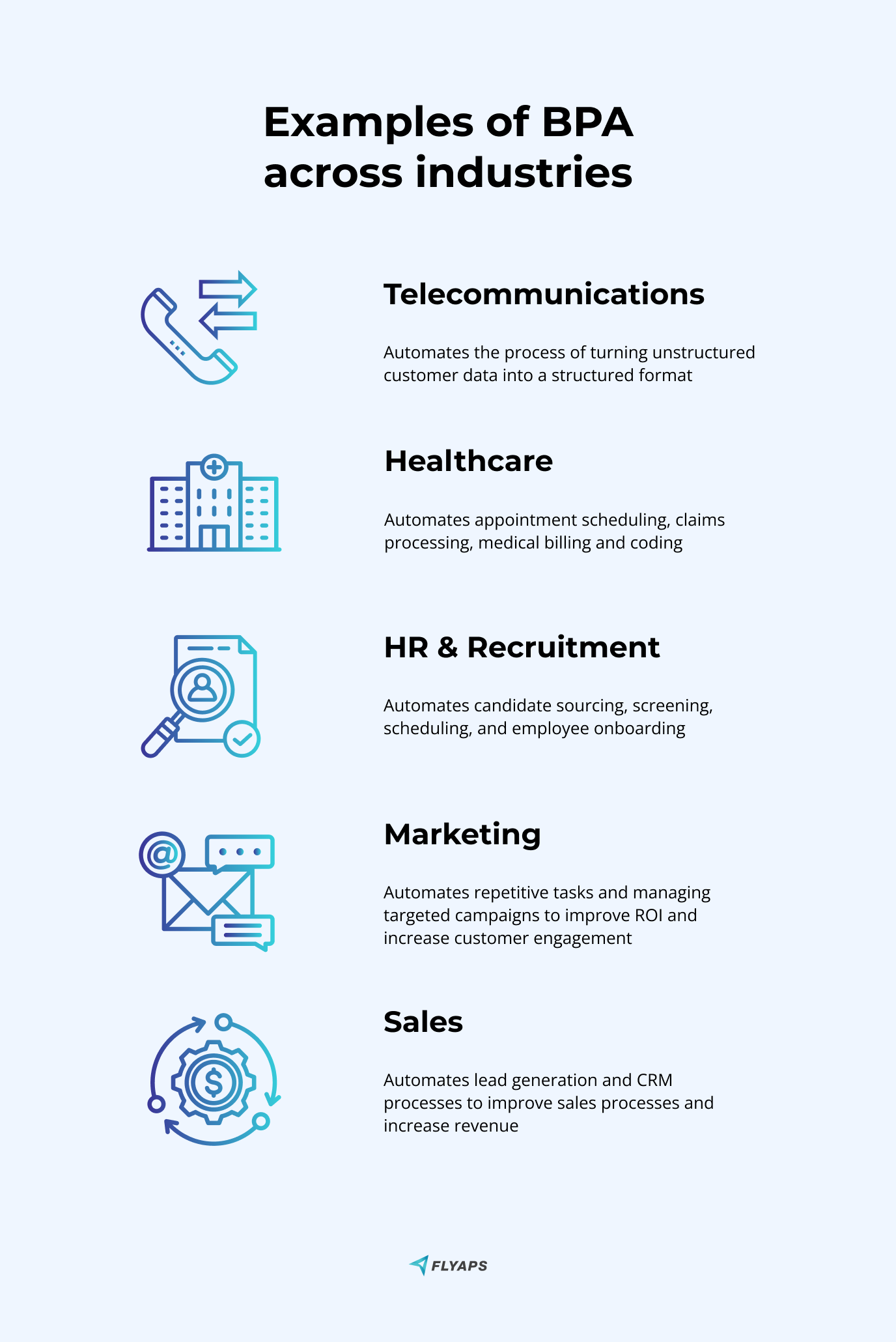 Telecommunications
The telecom industry is facing a tough time managing the sheer amount of data while keeping up with the demand for uninterrupted connectivity, and this is exactly where BPA can help.
Let's see how BPA can address the needs of telecom enterprises:
Data transformation automation
Telecom providers have to manage vast amounts of customer data, which is often spread across millions of files. Structuring all this unfiltered data can become a real challenge when done manually, which is why BPA is a life-saver in this case. With BPA, providers can automate the process of structuring the client data, making the process less time-consuming and easier to manage and analyze for their employees.
What's more, by combining BPA with the power of Artificial Intelligence (AI), telecom providers can dive even deeper into their data and benefit from it. For example, AI algorithms can be used to predict which customers are most likely to churn, so that telecoms can respond accordingly and create individualized marketing strategies to retain them.
Network management automation
Managing telecom networks is no easy feat, especially with the growing complexity of distributed networks which are handling an insane amount of traffic. Thankfully, with the rise of automation solutions, telecom companies can now breathe a sigh of relief.
Automation technology simplifies routine tasks like setting up new customer accounts using predefined rules and workflows to reduce human error, freeing up network engineers to tackle more intricate and challenging tasks.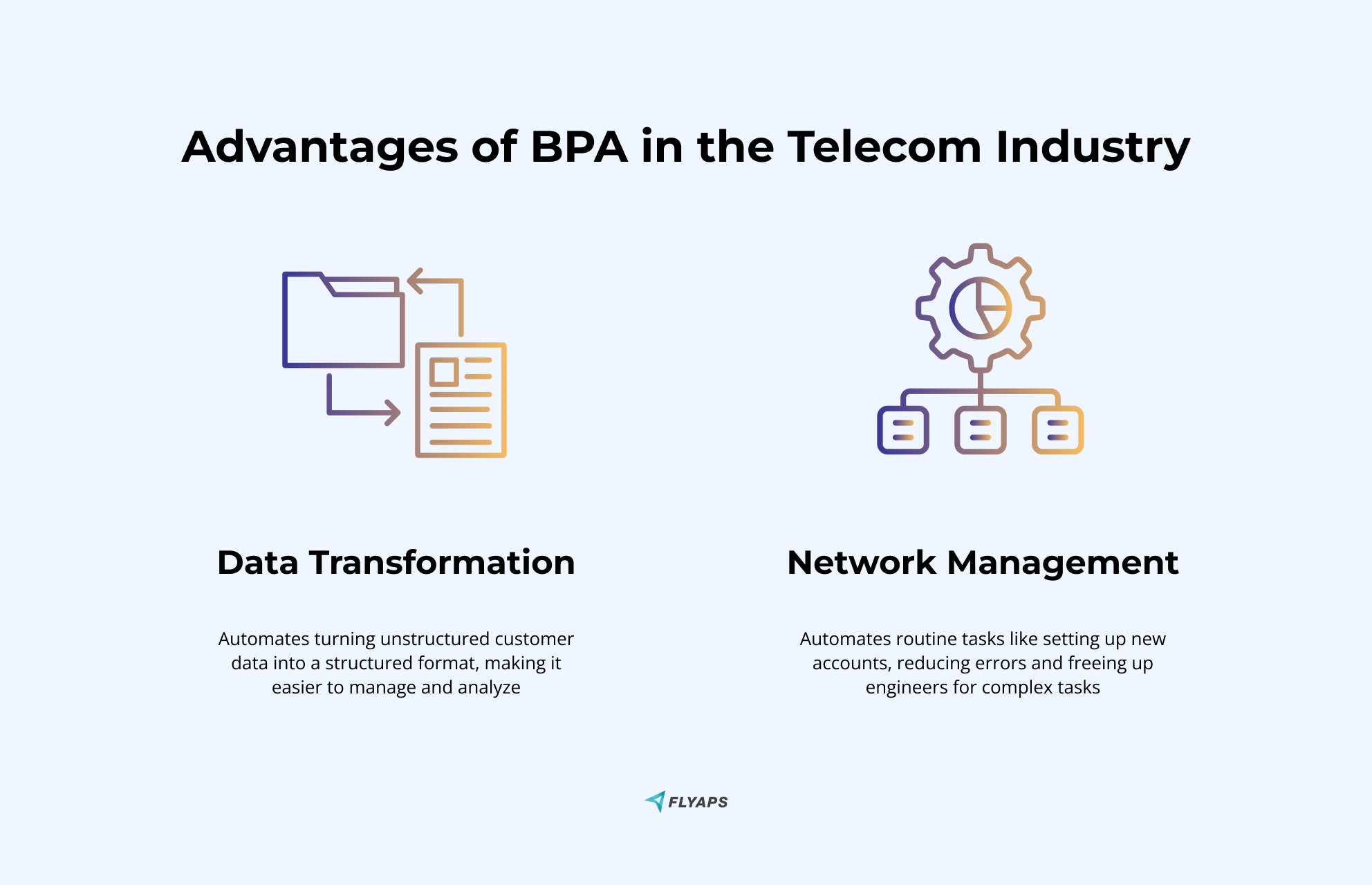 Healthcare
The COVID-19 pandemic has truly been a catalyst for change in the healthcare sector. It created an urgent demand for more resources, supply-chain efficiency, and cost-cutting.
Let's look through some examples of how automation may benefit the healthcare industry:
Medical billing and coding automation
By leveraging natural language processing (NLP), healthcare providers can extract precise medical coding data (medical classification of diagnoses/procedures) directly from patient records, medical documents, and, with the permission of patients, even voice recordings.
This not only enhances the accuracy of medical coding but also optimizes staff utilization, enabling healthcare professionals to focus on delivering better patient care.
Appointment scheduling automation
The days of waiting at the doctor's office in a long queue are quickly becoming a thing of the past. Thanks to AI-powered chatbots (or AI-enabled assistants), patients can schedule their appointments much more quicker. What's more, they can get answers to some basic questions (like "Do I have symptoms of a particular disease?" or "How do I prepare for a medical procedure?"), and even receive personalized recommendations.
Claims processing automation
The amount of medical claims submitted by healthcare providers in the US each year is mind-blowing – we're talking billions. Thankfully, BPA can handle the tasks involved in claims processing, clearing any hospital's backlog of claims and enabling staff to concentrate more on what really matters – the patients' well-being.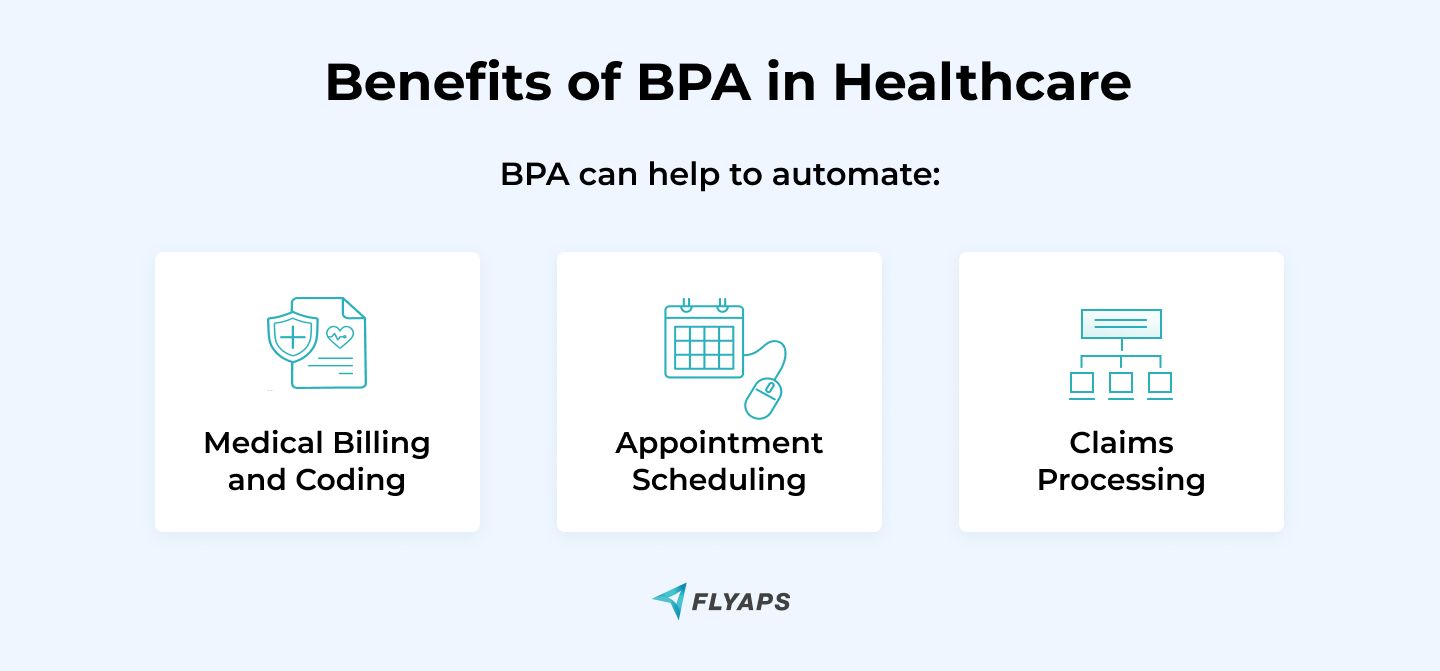 HR & Recruitment
When it comes to hiring, automation can be great for candidate sourcing, screening & scheduling. As a result, the whole HR department can benefit from reduced workload while at the same time rip the benefits of improved productivity and efficiency.
Now, let's explore some practical cases:
Recruitment and screening
Fortunately, the need to spend hours manually reviewing each resume and application form is now long gone. With HR automation tools like BambooHR or Zenefits recruitment managers can provide a shortlist of the most qualified candidates in no time.
Employee onboarding
Proper onboarding is crucial in determining whether a new employee decides to stick with your company or not. However, onboarding can be a hassle, especially when it involves lots of repetitive manual tasks. This can lead to problems like mistakes, lost documents, and unhappy employees, which then causes more paperwork and leaves everyone feeling unsatisfied.
Employee onboarding apps like Kissflow allow you to address such challenges and streamline the whole onboarding process.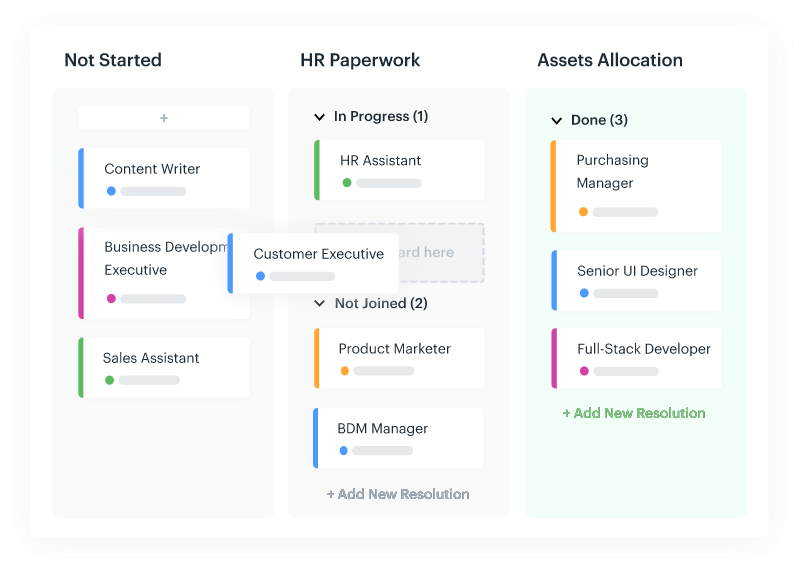 Marketing
Feeling tired of sifting through spreadsheets and manually reaching out to leads and customers? Then it's time to shake things up with some BPA tools and increase your business's overall marketing efficiency:
Email marketing automation
With user-friendly tools like MailChimp or Campaign Monitor, you can streamline your email campaigns and effectively manage your user base. Event creation, sending welcome emails, starting a new email campaign – all can be done effortlessly in one place.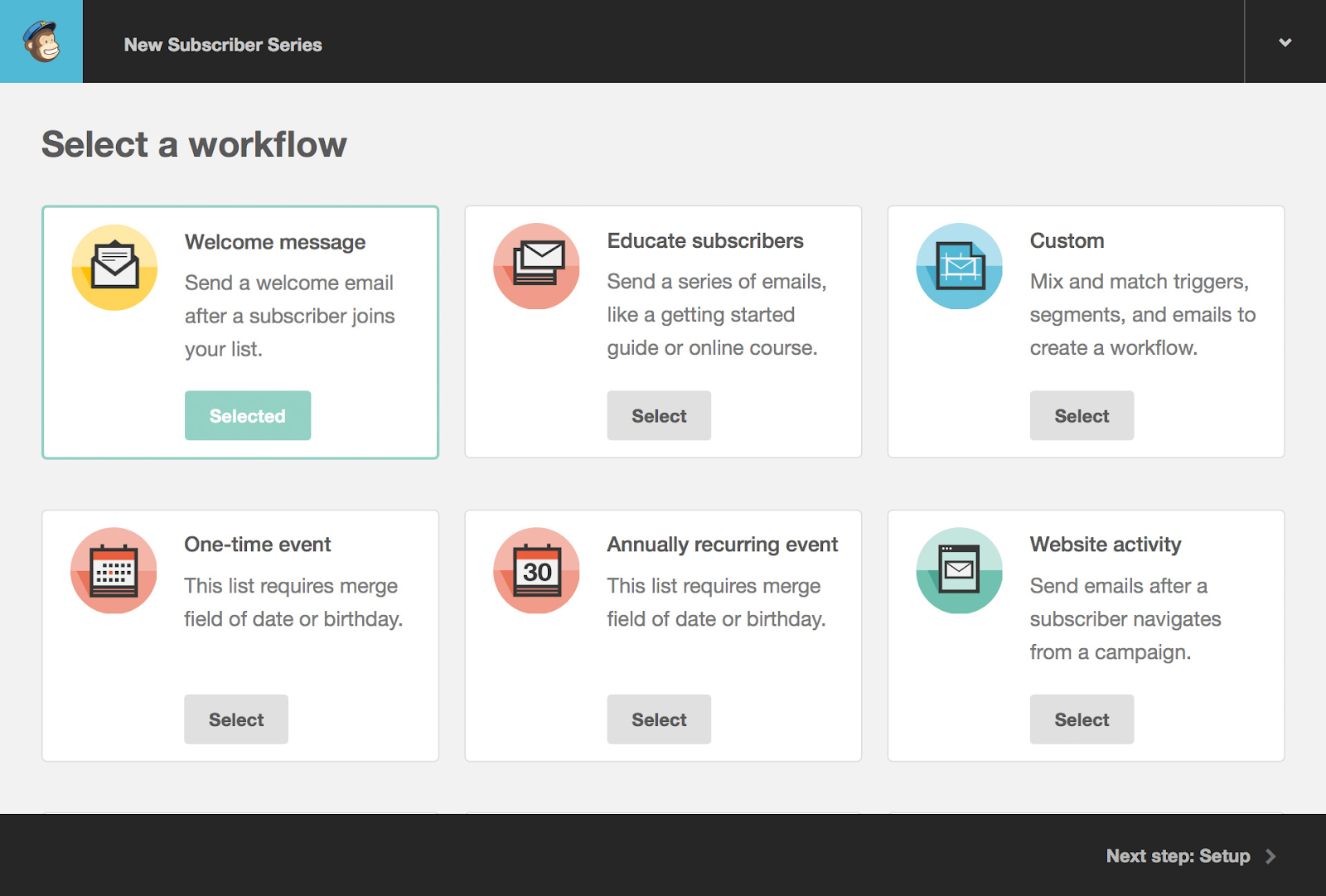 What's more, when you want to test which email copy drives the best results, you can do it trouble-free with automatic A/B testing and define what resonates best with your subscribers.
And finally, thanks to automation tools, you can set goals and track metrics like click-through rates, timing, and conversions, and create more effective email campaigns.
Social media management automation
In today's world, it is hard to think of a business, an entrepreneur, a blogger, or even an ordinary person without a social media account. If you take social media for your business seriously, using SMM automation tools is necessary to save much-needed time.
For example, with Hootsuite, probably the most famous SMM automation tool on the market right now, you can create, schedule, and publish posts on multiple social media platforms simultaneously, manage your ad campaigns, and get content insights all from a convenience of a single dashboard.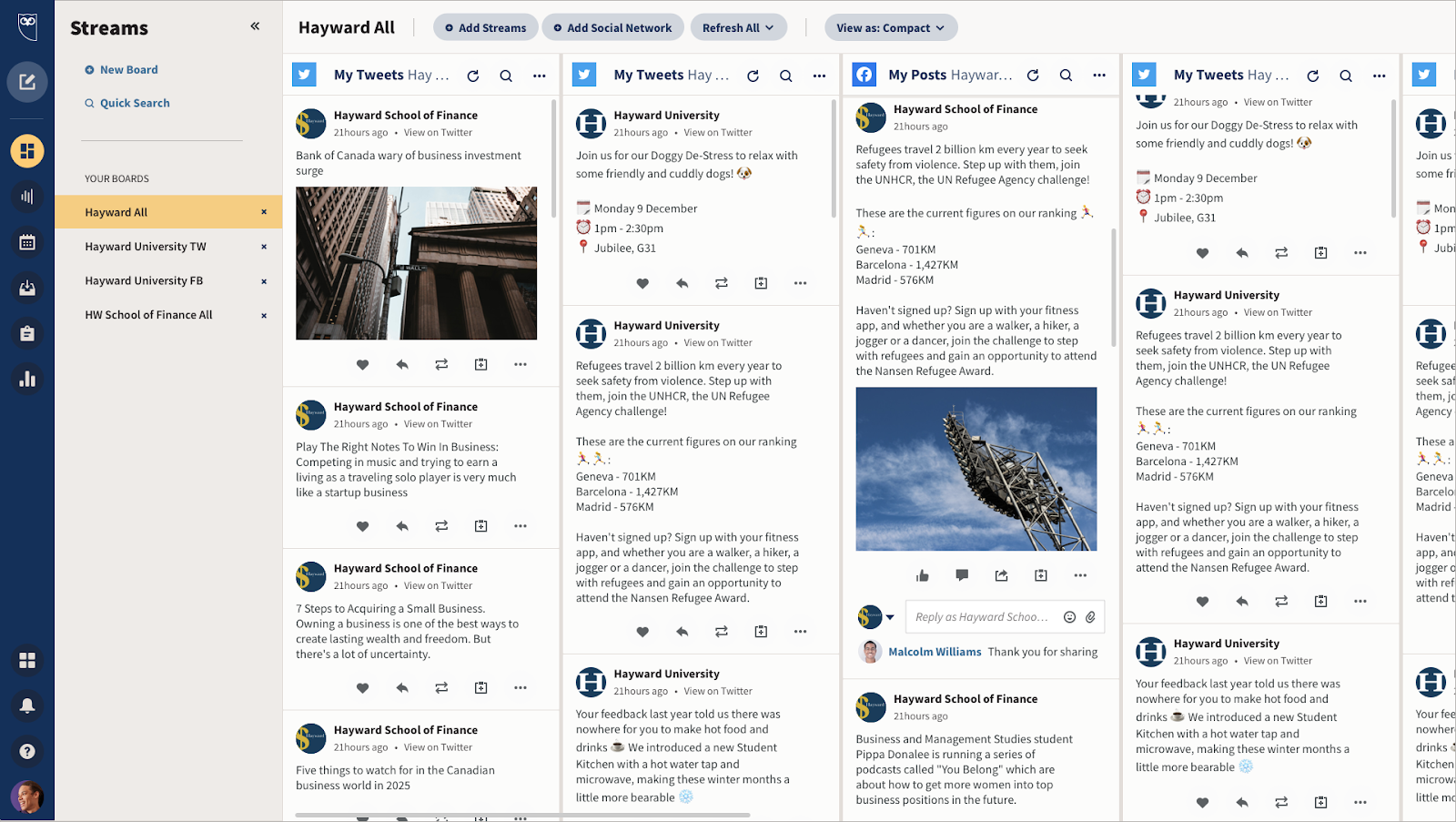 Sales
When it comes to sales reps, having more time means making more sales – and that's the main reason for you to invest in sales automation. Here is how you can improve your sales process and free up your team's valuable time and energy for prospecting and nurturing leads:
Sales lead generation automation
If you're looking to build an email base filled with high-quality leads, you need to entice website visitors and convince them to sign up. Fortunately, there are easy-to-use tools available that can help you achieve this goal without any coding knowledge required.
One such tool is Popupsmart, which allows you to display attractive and user-friendly email popups that include lead capture forms. This makes it easy to gather important subscriber information and grow your email list quickly.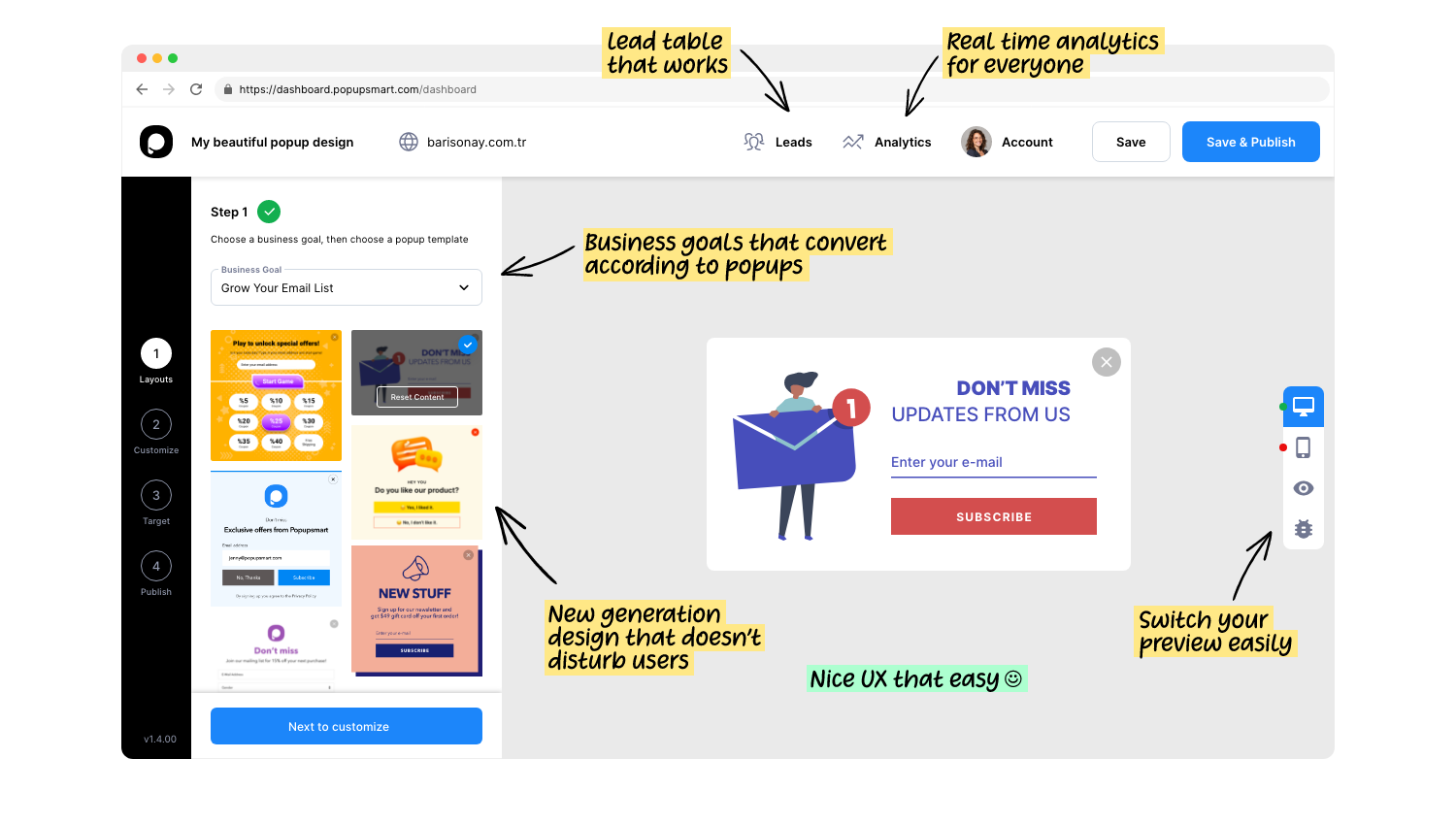 Sales customer relationship management (CRM) automation
Automating tasks like data entry, lead scoring, and writing follow-ups in your CRM system can save time and increase efficiency. With automation, your sales team can focus on high-value activities like prospecting and lead nurturing.
BPA automation success stories
Now that we've talked about ways to employ BPA, let's explore some examples of companies that have teamed up with Flyaps to successfully automate their business processes.
NetSpark IP & Telecom

NetSpark IP & Telecom is a telecommunications consulting company nestled in the heart of Texas, USA. They provide top-notch services from AT&T, the world's leading provider of telecommunications, media, and technology services.
As the company grew, it became clear that NetSpark IP & Telecom lacked the necessary tools to keep up with its success. Despite having a team of over 30 talented employees, they lacked a centralized system to oversee project implementation and manage client relationships. All work processes were done manually, leading to slow project delivery times.
After implementing a BPA solution with Flyaps, NetSpark IP & Telecom saw immediate improvements in their project delivery times and efficiency. The automation solution allowed them to centralize project management and oversee all client relationships from one central location, reducing the risk of errors and improving communication.
In the end, NetSpark IP & Telecom's success story is a testament to the power of business process automation. By identifying the right processes to automate and leveraging the right tools and technologies, they were able to achieve significant improvements in efficiency, productivity, and profitability.
Mercy Health

Before implementing automation, Mercy Health, a large healthcare company, faced the daily challenge of managing time-consuming, repetitive tasks manually. Staff members devoted countless hours to tedious duties like manually typing patient information into EHR (electronic health record system) or checking insurance coverage, causing the draining of time and valuable resources.
To address this issue, Mercy Health turned to robotic process automation (RPA). The results were remarkable. With RPA in place, Mercy Health was able to free up the time and resources by automating routine tasks. This not only increased efficiency and accuracy, but also led to a significant return on investment, with a 6.7x ROI and savings of $3M in the first year.
Empowered by the success of RPA in its supply chain management process, Mercy Health expanded automation to other organizational areas. This allowed them to continue streamlining processes, reducing the number of manual tasks, and ultimately, improving the patient experience.
GlossaryTech


CV Compiler is a startup that provides a software tool to analyze, score, and provide recommendations for technical resumes. They teamed up with our company to develop an AI-based algorithm for resume screening. Thanks to the advanced NLP technology behind it, CV Compiler can tell you what to remove from your resume, and what to add, and offers words to help you emphasize your experience. It helps software engineers, mobile app developers, data scientists, DevOps and QA specialists, designers, and product managers find their dream jobs.
Our team continues to work on the project to upgrade this product, adding new features and making the service available to other tech-related professionals.
Copa Airlines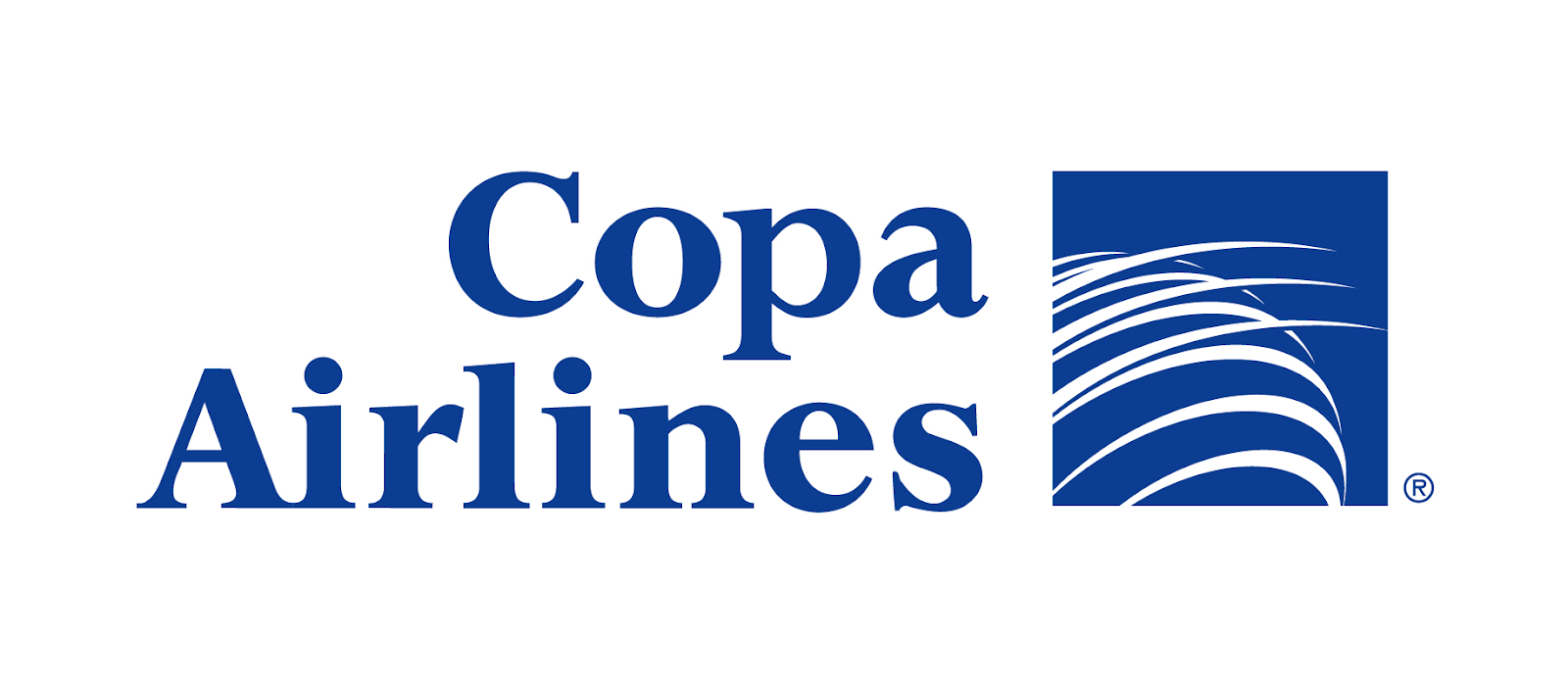 Copa Airlines, a major airline operating in America, had a major challenge on its hands: they needed to improve user engagement while slashing the time and effort it took to complete marketing tasks. With a large database of inactive contacts dragging their KPIs down and costing them money, something had to be done.
And so, Copa Airlines created a clean-up program that would omit inactive users and only deliver emails to active ones. Moreover, they deployed advanced personalization in their marketing campaigns to improve how fares are presented to customers.
In the end, not only did this give a much more accurate picture of the airline's performance, but it also resulted in a whopping 14% boost in revenue and a 100% increase in ROI.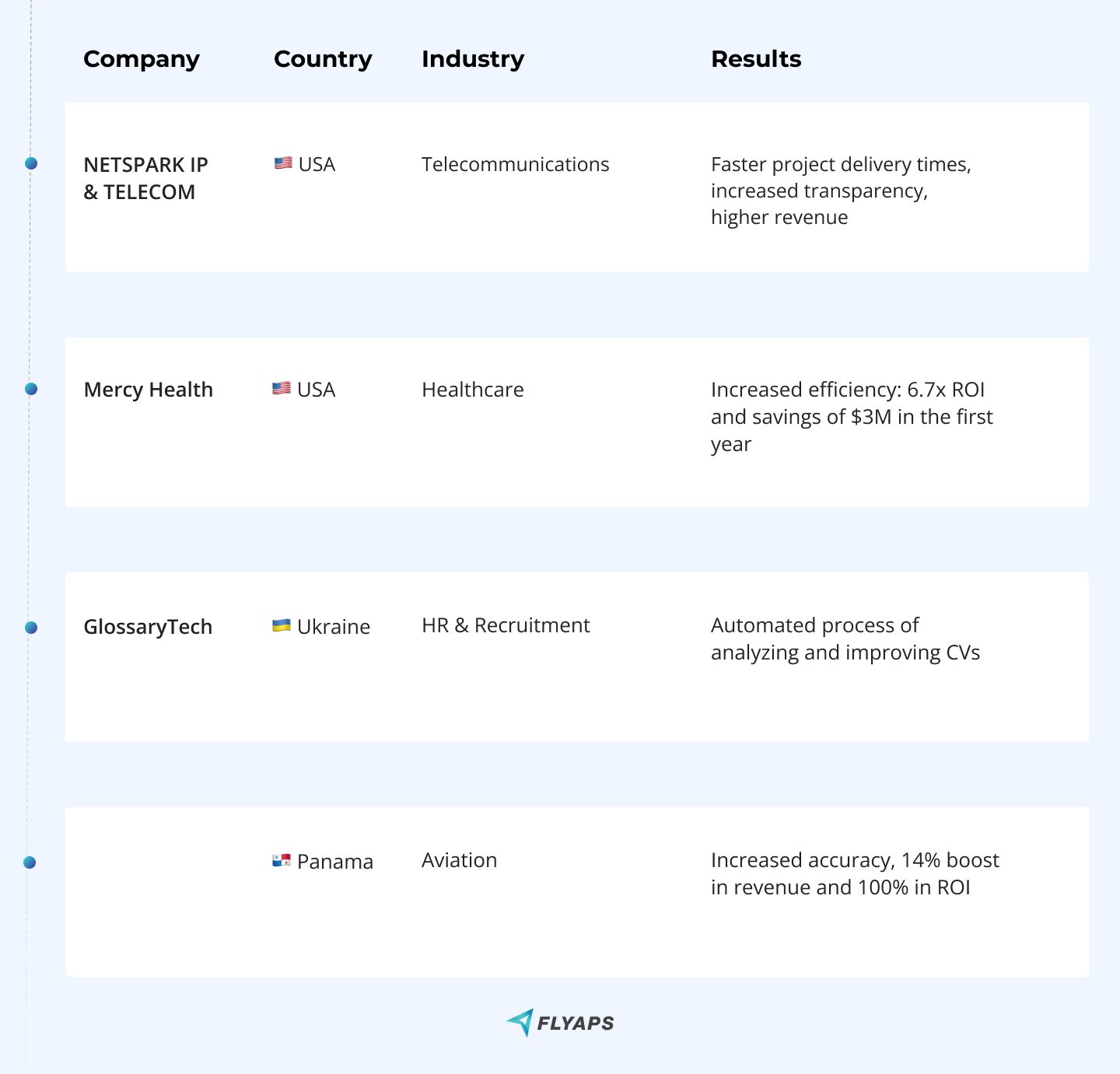 Some tips to build a compelling business case for BPA
Now that we know the benefits the BPA can bring to your enterprise and how other companies did it, it's time to talk about how you can develop your own successful BPA business case. Here are the tips you can follow to make the most out of automation:
Identify the current pain points. Start by assessing your current business processes and identifying the areas for improvement. Look for tasks that are repetitive, time-consuming, and error-prone.
Analyze the benefits of BPA. Determine the potential benefits of implementing BPA in your business, such as increased productivity, cost savings, improved accuracy, and faster turnaround times.
Calculate the return on investment. Estimate the cost of implementing BPA, including the cost of tools and resources required. Calculate the potential return on investment (ROI) by comparing the cost savings and increased efficiency that BPA will bring against the costs of implementation.
Build a plan for implementation. Develop a plan for how BPA will be implemented in the organization. This should include timelines, resources required, and the potential impact on staff.
Why automate your business with Flyaps
There is a wide range of BPA tools available, but they might not meet the needs of your company. That's where Flyaps comes in to help.
Here at Flyaps, we specialize in developing custom automation solutions that are tailored to meet the unique requirements of our clients. Our approach allows us to build solutions that minimize errors, optimize productivity, and streamline operations in ways that off-the-shelf solutions simply can't match.
If you're ready to take your business to the next level through automation, Flyaps is here to help.