How to Improve Digital Customer Experience in Telecom (With Tips and Examples)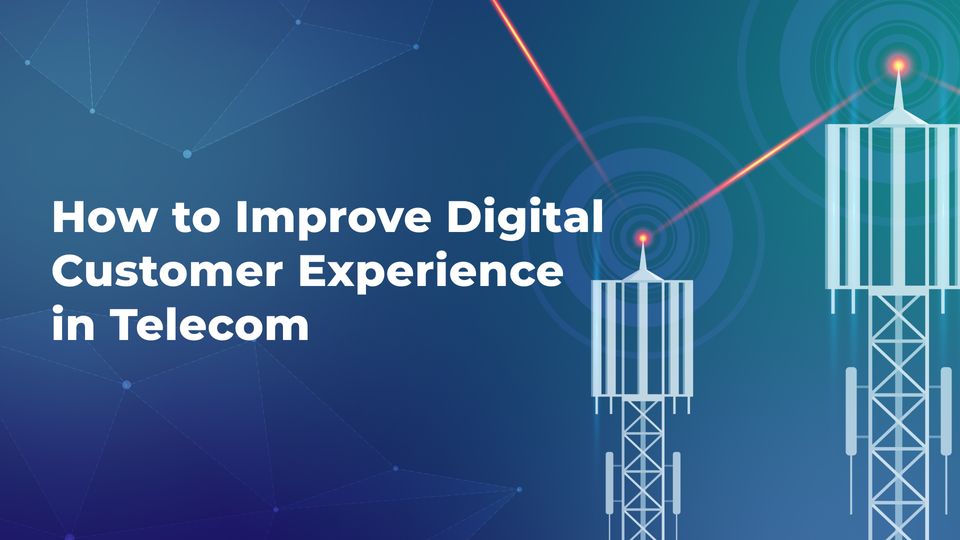 Telecom has been rapidly advancing in recent years, thanks to technologies like the Internet of Things (IoT) and 5G. But along with improving the quality of services technology-wise, customers, both B2B and B2C, expect better customer experience. The customer experience bar is constantly being raised by online apps like Amazon, Spotify and Netflix, so now clients are expecting the same experience from their telecommunications service providers. But unfortunately, only one-third of consumers believe that their telecommunications service provider understands them as a customer.

What's more, if it takes more than a day to accomplish something, the customer satisfaction level decreases by 30%. On average, smartphone users make 2.2 attempts and spend 4.1 days successfully completing an interaction with telecom service providers. As there are many Millennials who fill leadership gaps left by Baby Boomers, those statistics are also true for the B2B sector as well.

Flyaps has been helping telcos to be more client-friendly since 2013. Using AI, robotic process automation (RPA) and low-code technologies we've been able to create one-of-a-kind custom telecom applications that suit the needs of both employees and customers. Keep reading to learn insights and real-life success stories of how digital customer experience in telecom can be improved.

What do consumers want from telecom providers?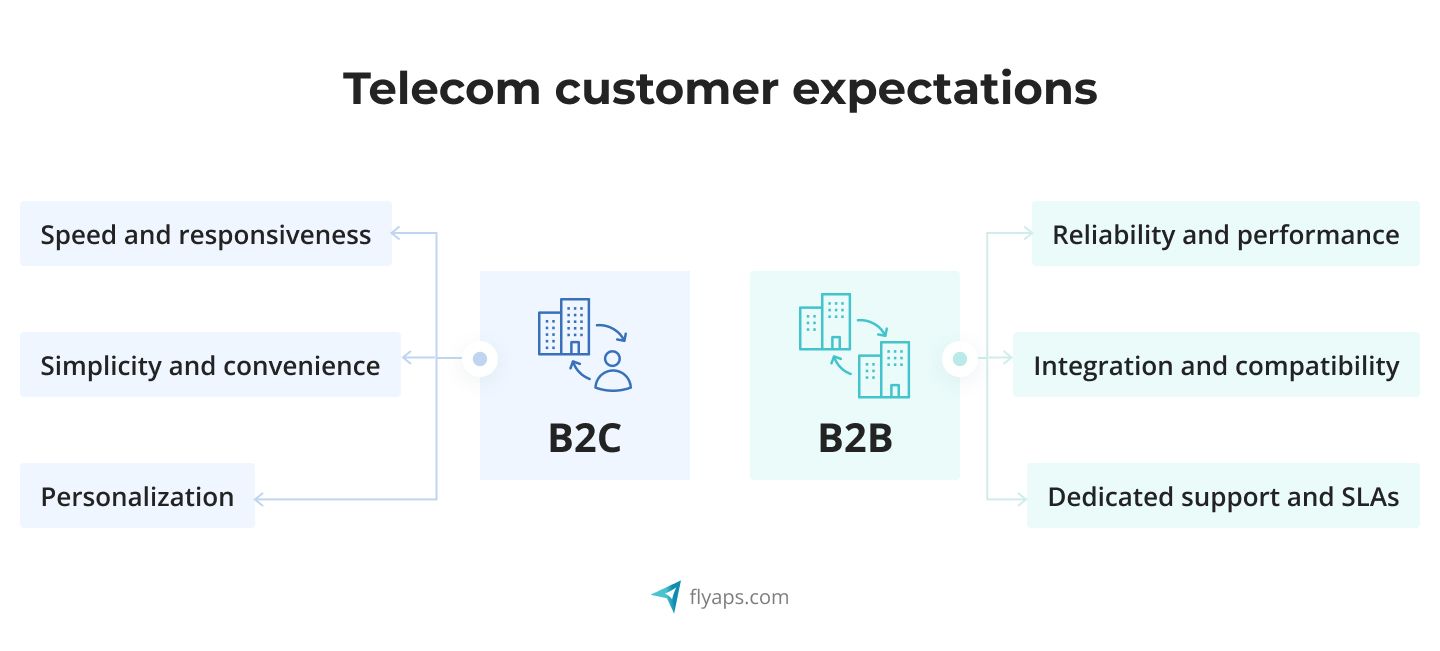 According to Dirk Grote, an industry expert at Salesforce, there is a big change happening in what B2B customers want. The new generation of business leaders doesn't like having a bad experience as customers, so they quickly choose another company to work with instead. This is supported by research from TTEC, which found that 53% of telco customers consider having a good customer experience very important when deciding whether to switch providers or recommend them to others.

At the same time, telecommunications companies are mostly operating using legacy technology and systems that are holding them back from meeting the changing customer needs. This means that these companies need to act fast and solve these problems to stay afloat.

B2B and B2C clients have different expectations from the digital customer experience in telecom. To understand how to increase the level of customer loyalty, you need to satisfy both groups and understand their specific needs. So let's see what B2C and B2B clients would normally expect in terms of experience.
B2C clients expectations
It is crucial for individual clients to get three key aspects from their telecom provider:

Speed and responsiveness
B2C customers have little to no tolerance for delays or prolonged response times. For instance, imagine you have live chat on your website, official accounts on Facebook and Twitter, and a customer support phone line. Even if your social media isn't really active and you just post some news a few times a year, customers expect immediate response if they decide to reach out to you through these platforms. They expect prompt assistance, fast issue resolution, and efficient customer support through any channel they find convenient to them.

2. Simplicity and convenience
Let's say hello to Jane, who recently moved to a new city. She needs to set up a new internet and cable service for her apartment. Jane expects the telecom company to provide seamless user experience, where she can easily navigate through their website or mobile app to explore different plans and services. She wants the process to be intuitive, with clear instructions and easily accessible information about pricing, installation, and equipment options.

Jane also expects the telecom company to make the entire process hassle-free. She doesn't want to deal with long wait times on the phone or complicated paperwork. Instead, she anticipates a smooth and efficient customer journey, where she can easily place an order online, schedule an installation appointment that suits her schedule, and receive clear communication about the progress of her request.

As any other B2C customer, Jane expects telecom services to be user-friendly, intuitive, and stress-free.  

3. Personalization
Now, let's look at Stiven who is an avid user of a telecom provider's mobile services. As many other customers, he is using mobile data for streaming music and videos. Naturally, he would appreciate receiving recommendations for data plans that cater to his specific needs, such as unlimited streaming or data boosts during peak usage hours.

Stiven also expects the telecom provider to inform him about relevant offers tailored to his preferences. For instance, if the provider introduces a new plan or service that aligns with his usage habits, such as a discounted streaming package or a loyalty program, he would appreciate receiving targeted offers matching his interests.

Moreover, Stiven wouldn't mind the telecom provider sending him personalized notifications or email updates to keep him informed about any upcoming changes, service disruptions, or new features that may affect his experience.
B2B clients expectations
Let's see what aspects of digital customer experience in telecom businesses value the most:

Reliability and performance
Meet Mark, who runs a rapidly expanding e-commerce business. Mark expects the telecom company he partners with to provide robust connectivity to ensure uninterrupted operations. Since his business heavily relies on online transactions, any downtime or disruptions in the network could result in lost sales and a negative impact on customer satisfaction. Mark expects the telecom company to deliver a reliable and stable connection that can handle high volumes of online traffic without any interruptions.

As Mark's business continues to grow, he also expects the telecom company to offer scalable solutions. He anticipates that his bandwidth requirements will increase over time as his customer base expands and his online operations become more complex. Therefore, Mark expects the telecom company to have the capability to easily accommodate his growing needs by providing flexible plans, scalable bandwidth options, and the ability to quickly upgrade or modify services when required.

Moreover, minimal downtime is crucial for Mark's business. He cannot afford any prolonged periods of network outages or technical issues that could disrupt his online operations. Mark expects the telecom company to have robust infrastructure, redundant systems, and proactive maintenance practices in place to minimize any potential downtime and quickly resolve any issues that may arise.

Simply put, Mark's company, as any other B2B client, expects robust connectivity, minimal downtime, and scalable solutions that can accommodate its growing needs.

2. Integration and compatibility
Imagine a company that has an on-premises communication system that includes a private branch exchange (PBX) for internal calls and a voicemail system. Additionally, they use an email server for internal and external communication, and a CRM software to manage customer relationships and sales processes.

Such a company would expect from their telecom company to seamlessly integrate their telecom services with the company's existing infrastructure and systems. This means that the company envisions a solution where the telecom services, such as voice calls and voicemail, can seamlessly integrate with their PBX system. Employees should be able to manage calls and voicemails through the same interface they use for internal communication.

Furthermore, such a company expects the telecom services to integrate with their email server, allowing for unified communication channels. For instance, employees should be able to access voicemail messages and manage them directly through their email client. This integration enables easier tracking and organization of communication, streamlining their workflow.

Last but not least, the company wants the telco to provide expertise and support during the integration process to ensure a smooth transition without any disruptions to the company's operations.

3. Dedicated support and SLAs
Here's John, a successful owner of an online store. He's a tech-savvy person who relies on his mobile phone for many things. He wants his experience with the telecom company he partners with for his business to be just as easy and convenient as his personal mobile services.

If John ever faces a problem that he can't solve by visiting the telecom company's website and talking to a chatbot, he expects special attention and outstanding service. John wants a dedicated account manager who understands his business needs and focuses on mobile communication. This manager will be his main contact, providing quick help and addressing any concerns he may have. This personalized attention makes John feel valued and ensures that his specific requirements are well understood.

Additionally, John expects the telecom company to provide Service Level Agreements (SLAs). These agreements lay out specific promises from the company, such as how quickly they will respond to issues, guarantees for uninterrupted service, and how they will solve any problems that arise. These SLAs show that the company is dedicated to providing high-quality service and being accountable for their performance.

Overall, both individual customers and business customers want a good digital customer experience from telecom companies, but they have different expectations because they focus on different things. Now, let's explore why telecom companies find it difficult to meet their customers' needs.
Why is it so hard for telcos to improve customer experience?
There are three main challenges that companies need to overcome to provide better digital customer experience in the telecom industry.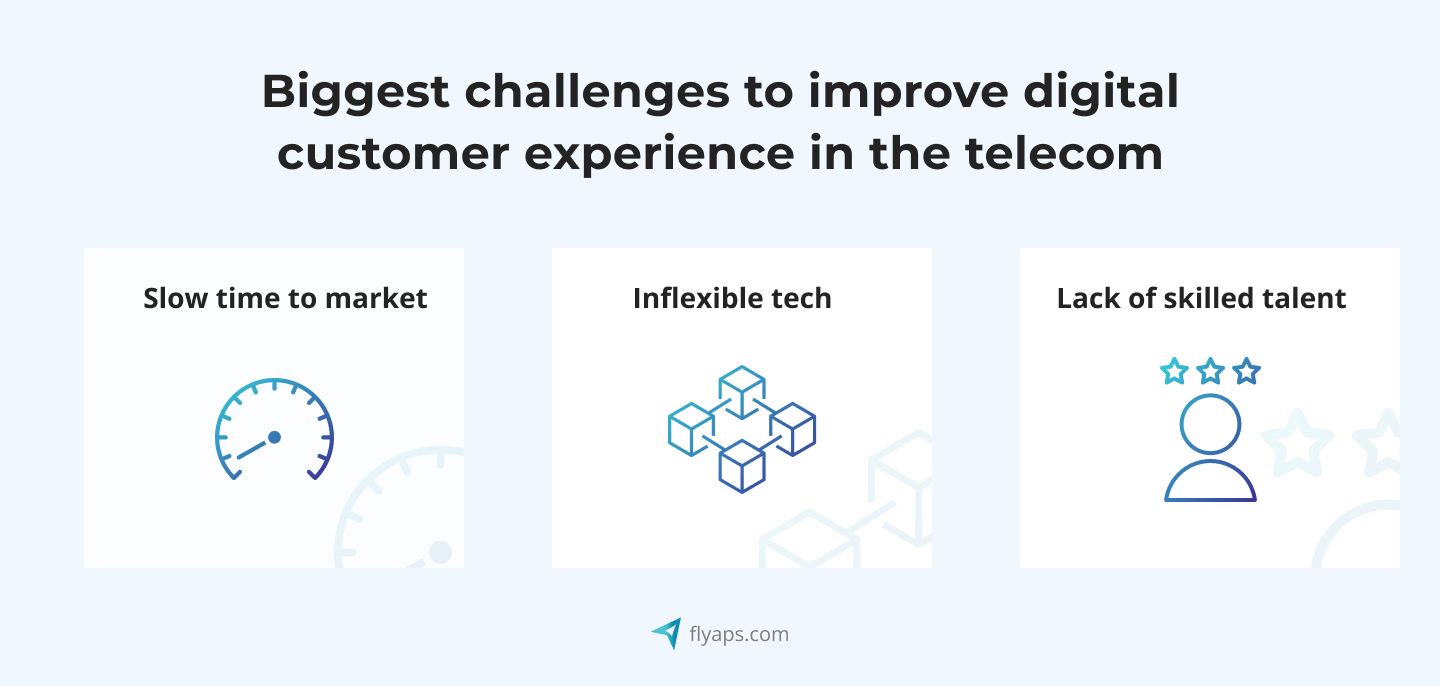 Slow time to market
Telcos' BSS (business support systems), with hundreds of subsystems, often lack flexibility to quickly adjust offerings and deliver campaigns based on customer needs. This often leads to lost deals and opportunities.

Let's imagine a hypothetical telecommunications company that has been struggling to improve its customer experience. One of the main challenges it faces is a slow time to market, which hampers the company's ability to meet customer needs promptly.

The telcos' BSS consists of numerous subsystems that are complex and rigid. Whenever there is a need to adjust their offerings or deliver targeted marketing campaigns based on customer preferences and demands, it becomes a cumbersome process. Due to the lack of agility within their BSS, the company also finds it challenging to quickly respond to market trends or introduce new features and services that align with customer expectations.

For example, suppose there is a sudden surge in demand for a particular data plan or a new technology emerges that customers are eager to adopt. In that case, the company's slow time to market hinders its ability to capitalize on these opportunities. By the time the company can adjust its offerings to meet customer needs, potential sales and opportunities might already be lost to more agile competitors.

This delay in adapting to market demands can also impact the overall customer experience. Customers may feel frustrated when they don't find the desired plans or services that match their preferences, leading them to explore alternatives from other providers who can fulfill their requirements promptly.
Inflexible tech
Here's another example of a telecommunications company that wants to improve its customer experience but faces challenges in doing so. One of their main difficulties is their inflexible technology infrastructure, specifically their outdated BSS and system-integrator (SI) providers.

Legacy BSS technology and SI providers are known for offering old-fashioned, expensive, and complicated solutions. Their systems are built on outdated structures that struggle to keep up with the fast-changing demands of customers and advancements in the telecom industry. As a consequence, the telecom company finds it hard to introduce new services, streamline their operations, and provide a smooth experience for their customers.

To upgrade their systems, the telco service provider has to go through complex and time-consuming processes. It involves long projects to integrate new solutions within their existing legacy systems, which can also be quite costly. These projects also carry the risk of not being completed or facing obstacles along the way, causing delays and disruptions in delivering services.

For instance, if the telecom company wants to create a user-friendly self-service portal to enhance customer experience, integrating it with their old BSS system would require complicated customizations and extensive development work. This not only increases costs but also takes a long time to bring the solution to market. As a result, the company struggles to meet customer expectations and keep up with competitors in the industry.
Lack of skilled talent
Telecom companies are facing a shortage of skilled tech talent. They have to compete with other industries to find qualified individuals, and the COVID-19 pandemic has made it even harder to hire new developers. For example, there is a high demand for data scientists, but there aren't enough of them available. According to statistics, 88% of tech talent who switch jobs end up leaving the telecom industry altogether.

But the challenge is not just finding talent; it's also knowing which skills are most important for success. McKinsey & Company researchers have identified three skill groups that make a big difference for high-performing companies:

Digital and analytics skills: This includes experts in cloud infrastructure, data engineering, and data storage.

Cross-functional management support: This involves people who are skilled in project management and leading teams. These capabilities help in coordinating different functions within the company and ensuring smooth operations.

Special domain expertise: Having deep knowledge in specific areas related to the industry is also crucial. It helps companies create unique products and services tailored to specific customer needs.

Certain capabilities like digital architecture, embedded systems and IoT, and advanced analytics and AI continue to grow and have the potential to bring significant changes in the future. Finding and hiring skilled tech professionals for your team can be difficult. That's why it's a good idea to think about teaming up with a trustworthy software engineering company. Flyaps is a great choice, as we have expert cloud engineers and AI specialists who know a lot about telecom. They can join your team and help with your projects, whether they are long-term or short-term. Having them on board will be really valuable.
How to improve digital customer experience in telecom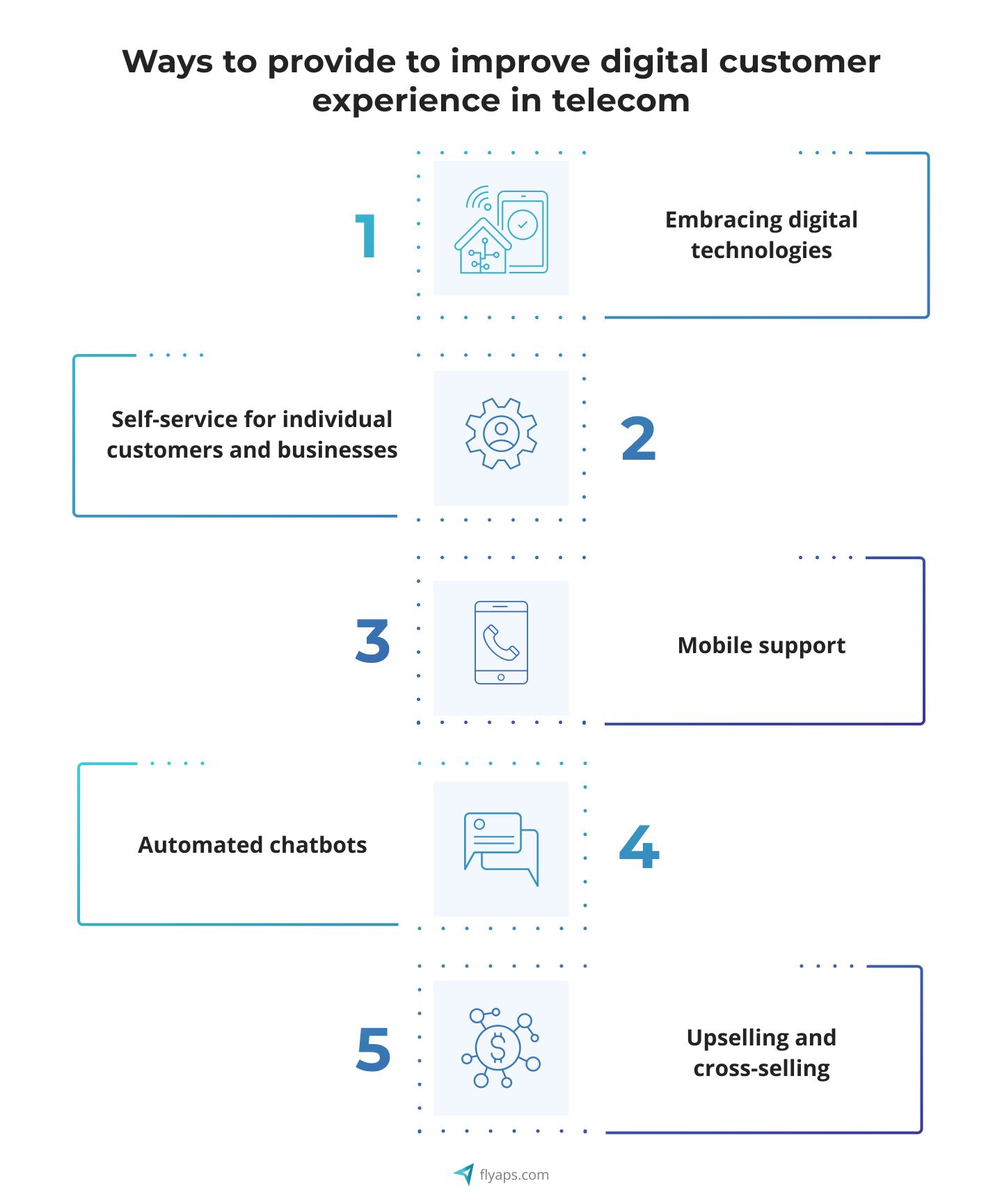 To boost client satisfaction, telcos need to step up their game and embrace modernization across their technologies, internal processes, and additional services with a keen focus on enhancing the overall customer experience. Let's take a closer look at the specific areas where telcos can make significant improvements.
Embracing digital technologies
In the telecom industry, it's important to introduce digital technologies like cloud, AI, data analytics, eSIM, and eKYC to make sure your customers have a great experience.

Let's say you have a telecom company that wants to provide top-notch services to its customers. We, at Flyaps, have a team of experienced cloud engineers who can seamlessly integrate your telecom services with cloud platforms. This means your customers will enjoy reliable and scalable services, with no interruptions in their connectivity. Plus, we'll help you manage your data efficiently.

Our AI and data analytics specialists will work with you to understand your customers' behavior. By analyzing their patterns and preferences, we'll help you improve their overall journey and automate processes wherever possible. This will not only save time but also open up new opportunities for your business.
Self-service for individual customers and businesses
Did you know that 69% of telecom clients try to solve tech problems on their own before seeking customer service help? Additionally, 81% of consumers want more self-service options, but only 40% of businesses believe they cope with this request. That's why having a digital self-care portal can be a game-changer for your business. Consider investing in a user-friendly website where customers can log in and handle their subscriptions, manage their plans, make payments, and upgrade services. These portals work well for both individual customers and businesses.

As a software development company, Flyaps have expertise to assist you in creating a self-service portal that suits your needs. We can help define the functionality and design an effective user interface. We will ensure that the portal perfectly integrates with your CRM/ERP and billing system.
Mobile support
Since most telecom services are used on smartphones, it's beneficial to provide self-service options on mobile devices. This allows customers to resolve their doubts without needing to switch to a different device.

As developers experienced in creating solutions for telcos, Flyaps know the specific mobile landscape of the telco's B2B clients. We have vast experience at creating intuitive and user-centered interfaces for mobile devices. This involves designing visually appealing layouts, easy-to-navigate menus, and interactive features. Our goal is to provide a seamless and enjoyable experience for your clients accessing the telecom services on their smartphones.

A key aspect of mobile-first development is implementing responsive design techniques. This ensures that the self-service options and other mobile features are adaptable to different screen sizes and orientations. Whether it's a smartphone or a tablet, the user interface will automatically adjust to provide an optimized experience.
Automated chatbots
Integrated into a self-service portal, AI-driven chatbots that are programmed with pre-configured answers to common customer queries, provide instant assistance. For example, when a customer accesses the self-service portal and has a question about billing, they can engage with the chatbot and receive immediate answers without having to wait for a live agent. This significantly reduces wait times and enhances the overall customer experience.
Upselling and cross-selling
With the help of our experienced team you can get intelligent algorithms through which the self-service portal can analyze a customer's usage patterns and interactions. Based on this information, the portal can automatically generate tailored product recommendations. For example, if a customer frequently purchases mobile data plans, the portal may suggest an upgraded plan that better suits their needs. This proactive approach to upselling and cross-selling ensures that customers receive personalized recommendations that align with their preferences and previous interactions.
Case in point: developing a user-friendly digital solution for NetSpark IP & Telecom
NetSpark IP & Telecom is a US-based telecommunications consulting company. It offers services from AT&T, one of the world's largest providers of telecommunications, media, and technology services.

When they turned to Flyaps, the company was operating without any system to manage client relationships, automate manual repetitive tasks, or manage workflow. As a result, work processes were slow, which was not good for customer engagement in their telecom company. Additionally, the company's employees had to manually analyze and calculate customers' data to determine the best combination of tariff plans. So, to get the best combinations customers had to wait for hours, when not days.

To solve the problem, we've built a custom CRM/ERP system that has built-in calculation tools. We used powerful technologies like Python (Django), React, and Material UI to develop the product quickly and cost-effectively. Our talented DevOps engineer set up CI/CD pipelines to automate the release process, ensuring we could deliver high-quality updates frequently.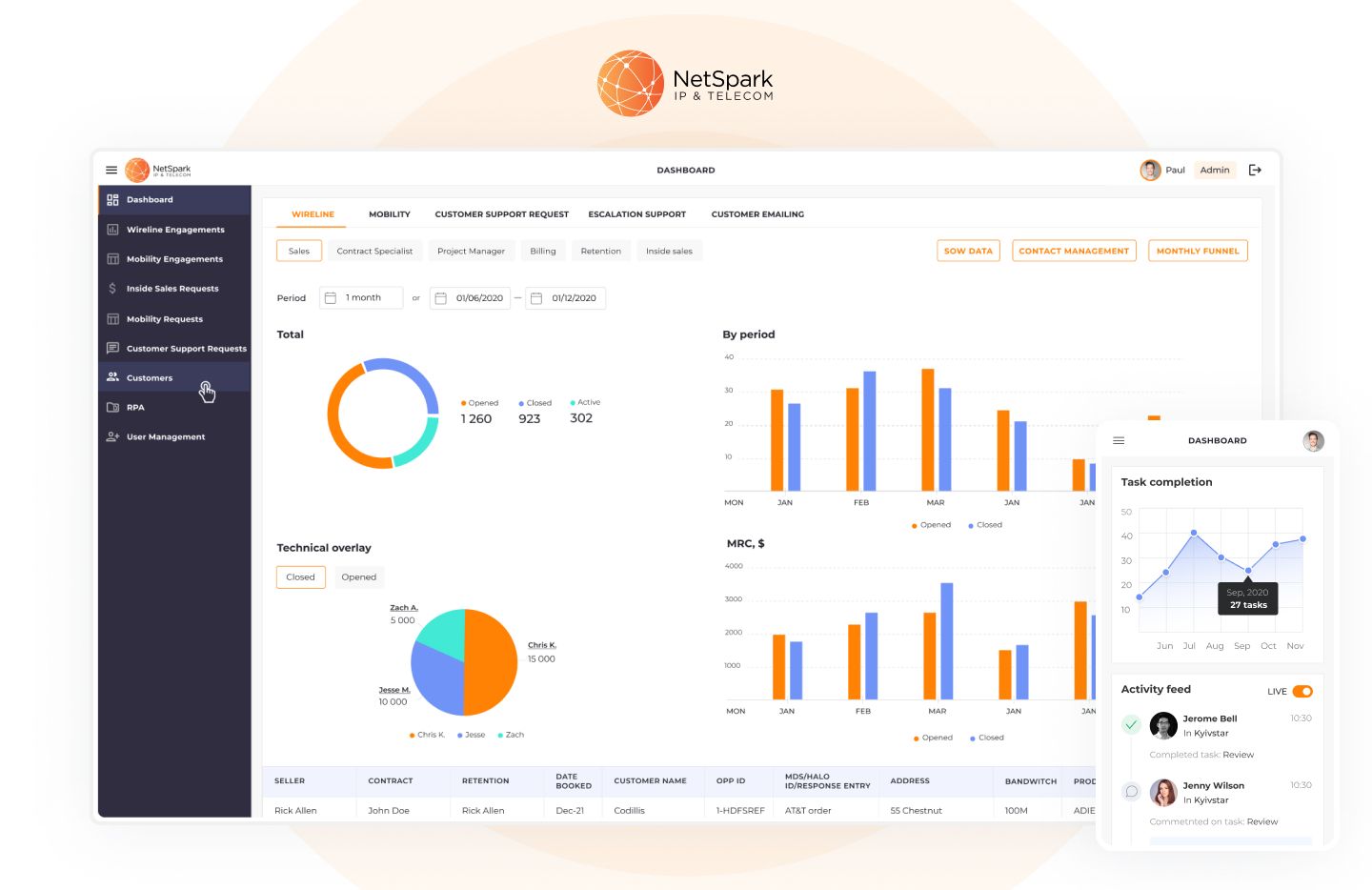 One of the most important aspects of the solution we created was engaging with NetSpark's wireline customers. We designed the system to have different user roles and access rights, catering to various stakeholders such as NetSpark employees, AT&T representatives, customers, and sub-agents. As a result, everyone involved in the telecom journey could easily access the platform and find the information they needed.

With features like email notifications, electronic signatures, and robust data management capabilities, business clients and partners could receive better service in the shortest possible time. They no longer had to wait for ages to get the information or support they needed.
Why choose Flyaps for improving customer experience in the telecom

At Flyaps, we have a proven track record of helping telcos boost their efficiency, enhance performance, and increase revenue through tailor-made technical solutions. We've been doing this for more than a decade, contributing to the modernization and improvement of telcos' customer experiences. Here's how we can assist you.

Advanced technologies. We're well-versed in the telecom industry, equipped with expertise in key technologies like cloud engineering, RPA, AI, and M2M/IoT. We are also experienced in creating UX/UI responsive design, which is essential for delivering top-notch digital customer experience.
Smooth operations. Our internal processes are streamlined and effective, ensuring we meet deadlines and stay within set budgets. You can trust us to deliver your project on time and within the agreed-upon financial framework.

Whether you're looking to optimize operations, introduce innovative solutions, or enhance your customers' journey, Flyaps is here to help. Let's work together to achieve your goals and take your telecom business to new heights.