Verizon Communications Inc. said it would give its wireless customers on unlimited data plans a year of free access to Disney+, giving the new streaming entrant a huge potential boost and the cellphone carrier a fresh way to hold on to customers.
The video service from Walt Disney Co. includes films and TV series from Pixar, Marvel, Star Wars and National Geographic, among others. It will cost $6.99 a month when it launches on Nov. 12 and goes up against Netflix Inc.
Verizon is the largest U.S. wireless provider with more than 100 million subscribers, and about half of its wireless customers are on unlimited plans. In addition to such plans, free Disney+ also will be available to Verizon's new Fios internet and 5G home broadband customers.
Disney+ is one of several new video services looking to challenge Netflix's dominance of the streaming market. Many Netflix competitors will need to play catch-up to build their subscriber rolls and are looking for ways to quickly grab customers as they launch. Apple Inc. is giving its Apple TV+ service free for a year to customers who purchase new iPhones.
UBS Group AG analysts estimate that there are about 17 million Verizon wireless customer accounts eligible for the Disney+ offer.
Rival AT&T Inc. next week plans to unveil its own streaming video service called HBO Max ahead of a full commercial launch expected next year. The telecom company has spent months assembling the service, which will include HBO's premium TV shows as well as Warner Bros. films and popular reruns like "Friends." AT&T won the rights to much of that content last year through its more than $80 billion purchase of Time Warner, a business it renamed WarnerMedia.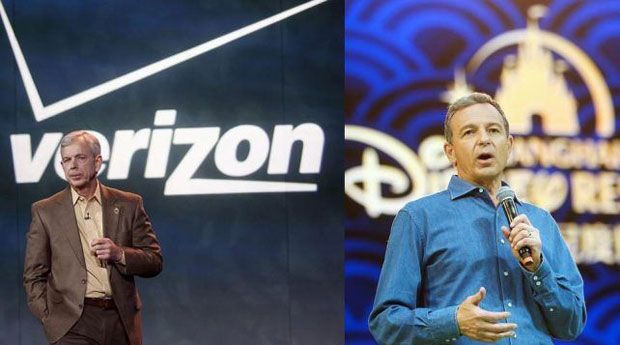 Under the latest agreement, Disney and Verizon will share the cost of providing the content to the carrier's subscribers, according to a person familiar with the arrangement. Disney benefits from an immediate pool of viewers, while Verizon is able to offer customers a perk that executives hope will keep them from turning to other providers.
Wireless carriers are increasingly offering free streaming content from Netflix to Spotify and Apple Music in a bid to retain customers in the super saturated U.S. market. Their goal is to reduce churn, or the number of customers who drop the service, though some executives say it is still too early to know how effective content offerings are in keeping subscribers from switching to a rival.
T-Mobile US Inc. kicked off the streaming-perks trend in 2017 when it gave family-plan customers free Netflix service. Sprint Corp. , which is seeking to merge with T-Mobile, offers free Hulu video streaming with its unlimited plans. AT&T gives some unlimited wireless customers free access to its AT&T Watch TV, a small bundle of live television channels.
Verizon has previously offered such perks. Customers on some Verizon unlimited plans get Apple Music free for six months and the carrier offers new home 5G customers a month of free YouTube TV.
Source: wsj.com